Training in agricultural and rural finance (FAR)
***Blended learning (online + in-person)***
English edition
> Online session - 17 May to 11 June 2021 – 30 places available
> In-person session - October 2021 – 15 places available
---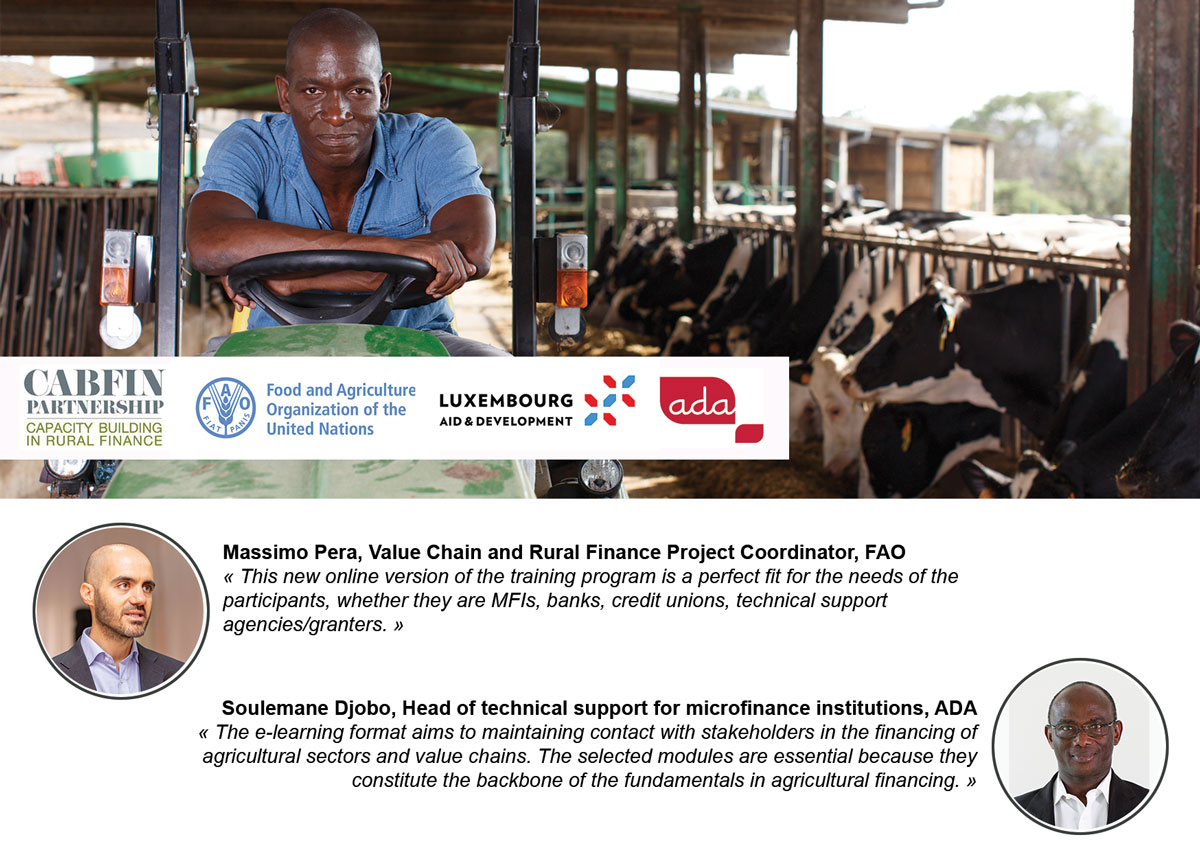 **Blended learning (online + in-person)**
The programme in agricultural and rural finance (FAR 2021) will be held in 2 sessions: online session from May 17th, 2021 (4 weeks) and in-person from October 11th, 2021 (1 week).
Following the success of the French edition, which was held in-person in Burkina Faso in 2019 and as online in 2020, the objective of this new edition in English is to provide a unique forum to explore, reflect and exchange ideas and strategies for the rural and agricultural sector, with a particular focus on the impact of climate change, especially in Africa.
Experts will present specific activities and results, thereby making it possible to both identify and analyse the experiences in order to draw lessons in terms of best practices throughout the globe.
This programme is organised by ADA (Appui au Développement Autonome), the Ministry of Foreign and European Affairs of Luxembourg (MAEE) and the Food and Agriculture Organization (FAO) through the CABFIN project, which aims to improve capacity building in rural finance.
---
Target Group
The programme is intended for senior managers of financial institutions and public bodies who are in the position to use the principles and tools provided to formulate strategies to design and deliver products which contribute to the financing of agricultural value chains. The programme is dedicated to participants coming from organisations working in Africa.
---
Programme
1/ INTRODUCTORY ONLINE SESSION 2021
4 weeks at your own pace (estimation of 5 to 10 hours of work per week), the online session also includes online discussions with other participants and speakers and knowledge progress tests.
The online session is introductory and grouped into 2 parts for a total of 5 modules:
Part 1: "Financial products and markets":
- Market assessment and product design
- Digital financial services for smallholder families
- Tailoring agricultural value chain financing mechanisms
Part 2: "Risk Management Strategies":
- Risk management in agricultural finance
- Agricultural insurance
4 simultaneous plenary sessions (webinars). One session per week will be held on topics related to current challenges in agricultural finance like lessons learned from the Covid-19 pandemic, Innovations in agricultural finance for smallholder farmers, Green finance, Investments in SMEs.

2/ IN-PERSON SESSION 2021
The in-person session will complement and deepen the online session on different topics related to rural and agricultural finance. It will be accessible to the 15 most assiduous participants of the introductory online 2021 session.
This training should take place in an East African country during the 2nd week of October 2021. This will be the week before the African Microfinance Week (SAM 2021).
---
General information
Dates: The online session will take place over 4 weeks, from May 17th to June 11th, 2021 and the in-person session will take place over 1 week, from October 11th to 15th, 2021 in an East African country (dates and place to be confirmed).
Costs:
- For the online session: free of charge, selection on application.
- For the in-person session: the 15 best participants in the online session will be automatically accepted for the grant to participate to the in-person session. Grants to participate in the programme are available from the Luxembourg Ministry of Foreign and European Affairs. This grant includes training fees, accommodation and meals during the training week. Participants must cover all other costs (transportation, visa and all other costs).
Registration/admission: Registration closed on 29 March 2021. If you would like to receive further information on upcoming sessions, please email ada3t@ada-microfinance.lu.
Language: The online session will be held in English only. 
Working hours: The online session includes 5 modules to be completed at your own pace, with an estimated 5 to 10 hours of work per week for 4 weeks. It also includes webinars, online discussions with other participants and speakers and knowledge progress tests. 
For the in-person session, the programme will last one week and it will include in-depth training courses as well as plenary sessions. More details on the in-person programme will be provided in due time.
Contact: Nausica Fiorelli or Caroline Morilhat: ada3t@ada-microfinance.lu