Body
Asia
---
ADA and its partner Democrance, an insurance tech company based in Dubai offering insurance products to low-income populations in the Middle East and North Africa, launched a project in 2017 to protect the income and activities of their family members left in their homeland .
---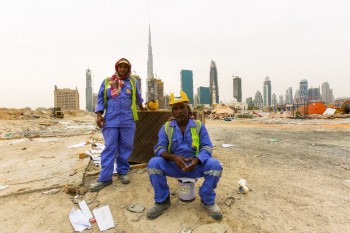 ADA and its partner Democrance, a Dubai-based insurance technology company, have joined forces to provide migrant workers and their families with access to insurance products through an innovative mobile money transfer solution.
This project is aimed at migrant workers based in the United Arab Emirates and aims to protect the income and activities of their family members back home.
This initiative was made possible thanks to a response to the call for projects "Scaling Up REmittances (SURE): Promoting innovative remittance systems and investment channels for migrants in rural economies", funded by the International Fund for Agricultural Development (IFAD) ̶ a UN specialized agency dedicated to eradicating poverty in rural areas of developing countries ̶ , in co-financing partnership with the European Commission, the Government of Luxembourg and the Spanish Ministry of Foreign Affairs and Cooperation.
Membership of this insurance scheme is achieved via the money transfer operators that migrants use to send money home to their families. Relatives can thus receive compensation in the event of the death or disability of the migrant.
Two insurance products for migrants were developed and launched in 2020 with the support of ADA and the insurance company AXA: a free product, sponsored by the money transfer operator, which covers death and disability for 90 days; and a second paid product (€1.60 per month), which adds greater coverage to the free product. A free teleconsultation service was also added during the Covid-19 pandemic. A third product offering coverage to families remaining in the country is under development. These products are distributed through money transfer operators (Hello Paisa and Rise) using a digital platform developed by Democrance. The platform allows: i) the migrant to easily manage his/her insurance subscription via smartphone; ii) his/her family in the country of origin to also make a claim via smartphone if the need arises; iii) the insurer to compensate the family in the country of origin via the money transfer operator.
By the end of the project in September 2020, 13,235 migrants had taken out one of the two insurance products.
______________________
About Democrance
Democrance, founded in 2015, is an insurance technology start-up whose mission is to build partnerships to make insurance accessible and affordable. Democrance has created a digital platform that brings together two key industries: insurance and telecommunications companies.
---
Linking insurance with remittances to improve resilience: Testimonials of beneficiaries
June 16: International Day of Family Remittances
June 16 was the International Day of Family Remittances (IDFR), proclaimed by the UN General Assembly with the aim to recognize the contribution of migrants to the development of their communities and countries back home, and to create a future of hope for their children. On this occasion, watch the testimonials of beneficiaries of a project by ADA, Democrance, and the IFAD, that enables migrant workers and their families back home to access insurance through remittances, simply by using their mobile phones.