---
Project objective
To improve the quality of life of the low-income population of Central America and the Dominican Republic by strengthening the capacity of the microfinance sector as a tool for development.
Project Manager
Partners
REDCAMIF et les 7 réseaux nationaux membres : 
- ASOMIF (Nicaragua)
- ASOMI (El Salvador)
- REDIMIF (Guatemala)
- REDMICROH (Honduras)
- REDOMIF (République Dominicaine) 
- REDCOM (Costa Rica)
- REDPAMIF (Panama)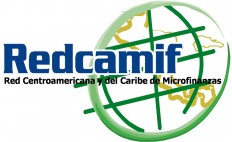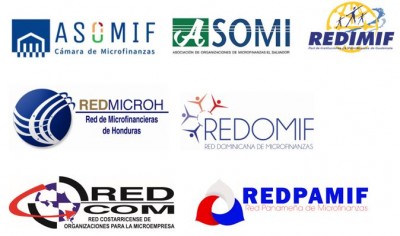 Accelerating financial inclusion in Central America and Dominican Republic
---
ADA supports the expansion of inclusive finance products and services in Central America and the Dominican Republic through a technical and financial support programme to the regional microfinance network REDCAMIF (Red Centroamericana y del Caribe de Microfinanzas).
---
REDCAMIF, a partner of choice for more impact
To expand their services, MFIs rely on national networks whose role is key to developing appropriate financial products and creating an enabling policy environment.
These networks are themselves part of the REDCAMIF (Red Centroamericana y del Caribe de Microfinanzas) network, a regional microfinance network that groups seven national networks: 
Network of Microfinance Institutions of Guatemala (REDIMIF),
Association of Microfinance Organizations of El Salvador (ASOMI),
Network of Microfinance Institutions of Honduras (REDMICROH),
Nicaraguan Association of Microfinance Institutions (ASOMI),
Network of Microfinance Organizations of Costa Rica (REDCOM),
Panamanian Microfinance Network (REDPAMIF),
Dominican Microfinance Network (REDOMIF).
Together, these networks represent 138 member MFIs, for a total coverage of 1.8 million clients of which 57% are women and 40% live in rural areas.
---
Strengthening the social added value of microfinance 
Throughout its almost 20 years of existence, REDCAMIF has worked to professionalize and specialize the microfinance sector through the development of a series of programs and projects aimed at strengthening the sector's capacities, promoting innovation in financial and non-financial products and services adapted to the needs of low-income populations in order to improve their quality of life.
For 10 years now, ADA has been supporting REDCAMIF to professionalize the microfinance sector in Central America and the Caribbean.
In this logic, ADA and REDCAMIF are working together to increase the capacities of microfinance clients, through the access and use of responsible and inclusive financial services by promoting a broader vision of social performance within MFIs, encouraging the use of technology to reduce transaction costs and improve access and agility of financial services, strengthening the capacities of MFIs to offer financial services with high social added value, as well as strengthening the risk management of MFIs to ensure the sustainability of their inclusive financial services.
ADA and REDCAMIF are working together to promote responsible and inclusive finance in order to facilitate transparency and information exchange by MFIs, to manage the knowledge of national networks, and finally, to create partnerships to strengthen microfinance in the region.
Part of the REDCAMIF project's activities to develop value-added financial services fall under the same theme of combating the effects of climate change. The development of green and rural microfinance products is currently underway in 16 MFIs.
At the end of July 2020, the regional microfinance conference organized by REDCAMIF will be held in Honduras.
ADA supports as well the activities of SERINSA (Servicios Inclusivos SA) in order to intensify the distribution of microinsurance products through the national networks affiliated to REDCAMIF and their member MFIs.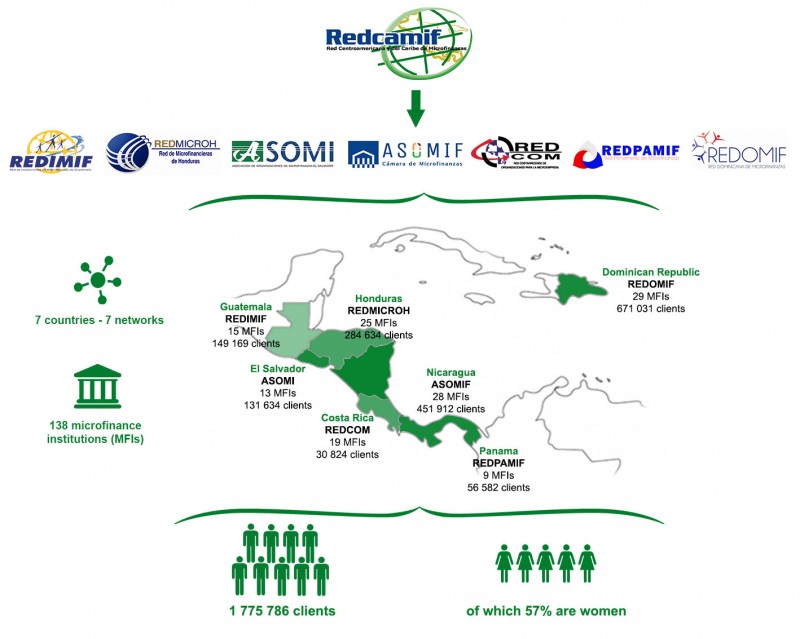 ---
Support for the digital transformation of microfinance institutions
In 2018, ADA renewed its support for REDCAMIF through a support programme for MFIs affiliated to the network. As part of this, a methodology was established to support the implementation of digital solutions for MFIs. In collaboration with Amarante, it offers a comprehensive approach focused on the needs of both customers and the MFI. First, the MFI's current model and available resources are analysed, and areas for improvement for an optimal customer experience are identified. Based on these results, the MFI, which now has precise data on the behaviours and preferences of its customers, designs a strategic plan for its digital transformation.
The three-year project aims to test the methodology with 10 MFIs by end-2021. At end-2019, the following 7 MFIs had already finalised their digital transformation strategy: FAFIDESS (Guatemala); Hermandad, Banco Popular and ODEF (Honduras); Banco ADEMI (Dominican Republic); SAC Integral (El Salvador); and Banco Delta (Panama).
---
COVID-19 Response programme: support MFIs in the implementation of digital solutions
In April 2020, ADA, with the support of the Ministry of Foreign and European Affairs of Luxembourg, launched a response programme called "COVID-19 Response Programme" to help its partners get through the crisis by reallocating the budget of the projects postponed due to the COVID-19 crisis. A total amount of EUR 1 022 814 has been mobilised to finance this programme, which provides for:
A grant to finance the purchase of products or equipment to facilitate responsible business continuity (masks and disinfectants), remote communication or teleworking ;
A grant to finance emergency technical assistance to enable organisations to define and implement the necessary measures to ensure the continuity of their activities and the protection of their staff and clients;
A grant to finance technical assistance for business resumption with advice on repositioning strategy, new product development or implementation of digital solutions among others.
For the Latin American region, 37 applications were accepted for a total of EUR 516,000, of which 7 MFIs are currently being supported to implement digital solutions.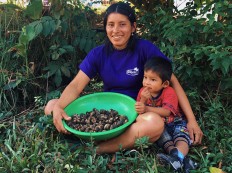 REDCAMIF project 2012-2017: Results
Set up between August 2012 and December 2017 with a budget of 6.4 million euros, the ADA-REDCAMIF project aimed to promote financial inclusion in Central America and the Dominican Republic:
- providing MFIs with ongoing access to financing to expand the provision of inclusive and sustainable financial services in the region;
- strengthening the risk management capacity, corporate governance, social performance management and sustainability of the 7 national networks and the regional REDCAMIF network.
Body
---
NEWS
---
All about REDCAMIF: discover the new website
10 février 2021
The historic ADA partner, REDCAMIF, a network that gathers the professional microfinance associations of 7 Central American and Caribbean countries has just launched its new website: www.redcamif.org.
REDCAMIF counts a total of 125 member MFIs and a reach of nearly 1.5 million final clients. Thanks to this new website, you can discover its expertise and learn about all the services available to the member microfinance institutions, such as green microfinance, financial education, social housing, and many others. Many of these activities are carried out in cooperation with ADA through a long-term support programme that aims at strengthening the network even more. The great news of this website is that now all contents are available also in English!
---
Read REDCAMIF's latest study on the impact of COVID-19 on MSMEs in Central America and the Caribbean
10 février 2021
The study "Impact of COVID-19 on MSMEs in Central America and the Caribbean: results of MFIs clients' surveys" (available only in Spanish) aims to analyse the impact of the pandemic on micro, small and medium enterprises (MSMEs), clients of the microfinance sector in Central America and the Dominican Republic, through a systematisation of the results found by microfinance institutions (MFIs) that made a survey among their clients to know their conditions after the outbreak of the pandemic.
The current context offers a unique opportunity for MFIs and other actors in the microfinance sector to implement different digital business models that integrate new strategies, new products, new channels and other aspects to meet client demand.
---
REDCAMIF: Newsletter - July 2020
Discover the results of ADA's "COVID-19 Response Programme" and REDCAMIF's financial education videos on care and prevention in the time of COVID-19.