Body
Microfinance for them
The beneficiaries of the investment in Ecuador
Nausica Fiorelli, an ADA volunteer, went to Ecuador to meet the beneficiaries of Insotec, an MFI supported by ADA and financed by LMDF for €1.1 million in 2018.
Insotec was founded in 1980 as a private non-profit foundation, at the initiative of a group of small industry entrepreneurs to contribute to the country's economic, social and educational development.
The institution has a presence in 5 of the country's 24 provinces through 9 branches and serves a clientele of small farmers growing several products, such as apples, bananas or cocoa. In the second half of 2018, Insotec had 15,816 customers.
During her trip, Nausica went to the branch located in El Quinche, 50 km north of Quito, to meet two families who had benefited from a micro-credit thanks to Insotec.
Through her story, she tells us the stories of the Pujota family, who have been growing a greenhouse for nearly 20 years, and Alfredo Zepeda, a father who has been managing strawberry plantations alone for about 15 years.
Good reading.
---
El Quinche, ECUADOR 
They may not have a degree, but they have plenty of drive
As I am getting ready to visit Insotec's clients, in El Quinche (50 km north of Quito, the capital of Ecuador), I do not know what to expect and I am a bit anxious. I have learnt by experience that people from Andean countries can be very shy and even with a decent level of Spanish, communication might be tough.
Santiago, Insotec's financial assistant, comes to pick me up very early in the morning since we have a one-hour drive to the branch. As we approach the town, I start thinking that perhaps my task will not be as difficult as in the Peruvian selva: the road here is asphalted, we can get everywhere by car and there seems to be a healthy respect for the highway code.
When we arrive, I see a town teeming with people selling all kind of goods and food, which is typical of South America. This place is not a tourist destination and so I am not surprised when I see people looking at me with curiosity.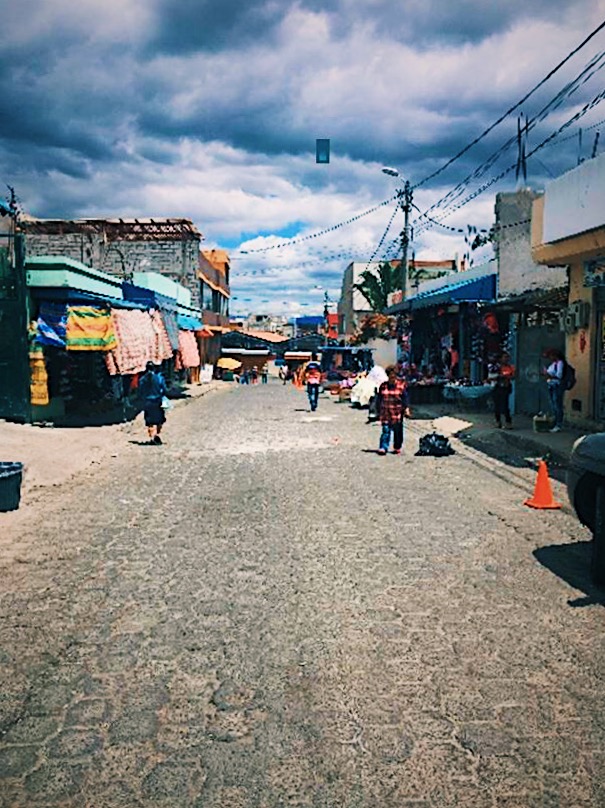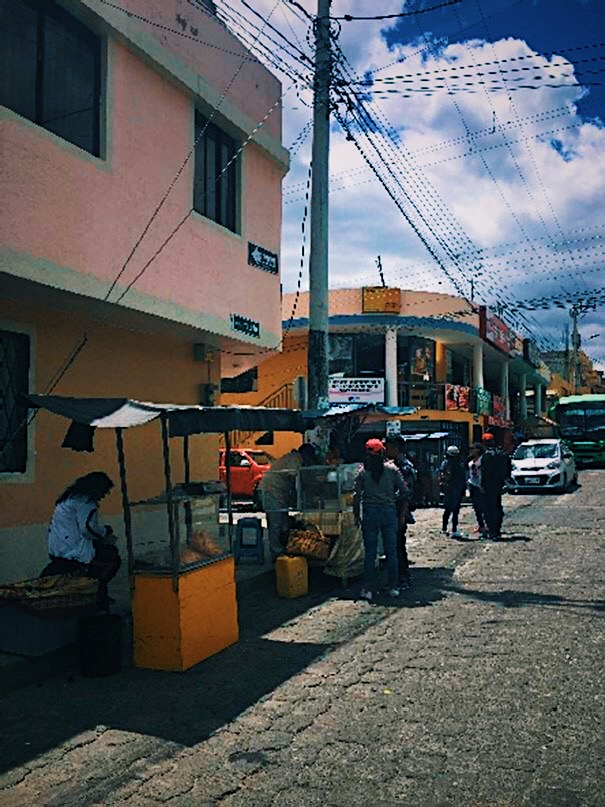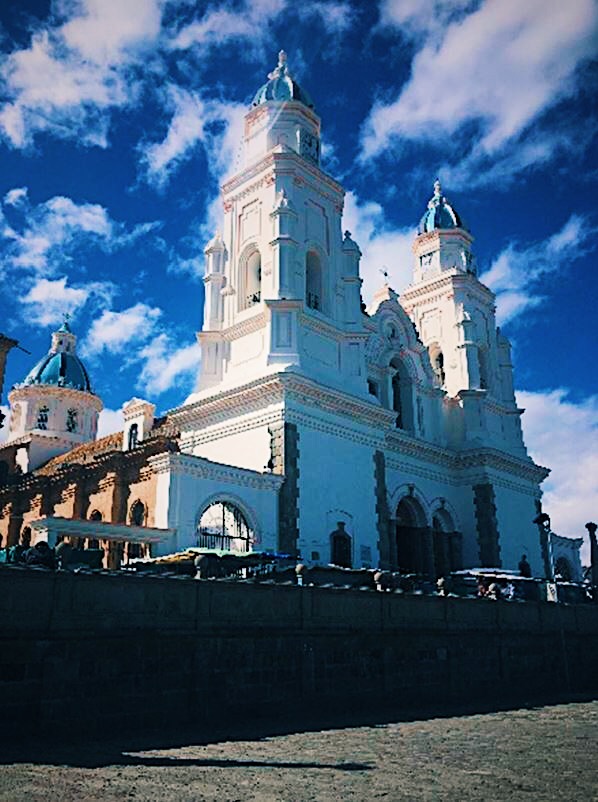 Nevertheless, this community has private and business exchanges with Quito, the capital, and therefore they should have no problem interacting with someone like me who does not belong to the community. I am confident that interviewing the Ecuadorian clients will be easier than  interviewing the Peruvian cocoa farmers.
Nevertheless, this community has private and business exchanges with Quito, the capital, hence they should have no problem in interacting with someone like me i.e. someone who does not belong to the community: I am confident that interviewing the Ecuadorian clients will be an easy task compared to the Peruvian cocoa farmers.
---
Jacqueline, supervisor
The Insotec branch is right in the city centre and when I arrive I am welcomed by Jacqueline, a very busy woman who is the branch supervisor. Jaqueline was a credit agent for a long time and  she continues to be  the main reference point for many clients; she knows all of them personally, as well as the stories behind each microloan.
When I see that her mobile phone rings non-stop, I ask why she keeps receiving so many calls from the clients since she is no longer a  credit agent. "The thing is that I love my job",  she replies, "I like looking after the clients and when I was a credit agent I used to tell them that they could call me at any time and for anything they need. So, that´s what they are doing",  she smiles. "They trust me a lot and they know that if I cannot pick up because I am busy, I will return the call as soon as possible".
"However," she continues, "I have had some difficult moments. For instance, once I was victim of an express kidnapping because I was in the wrong place at the wrong time.  At that time I was in charge of the clients in a dangerous urban area, whereas I was just used to  rural areas which are much safer and quieter".
We head to the first client; Jaqueline drives and I can see how confident she feels on these roads. I sit on the passenger side enjoying the Andean landscape while she explains her job and tells me about the clients we are going to visit.
---
The PUJOTA family
The greenhouses
After a 30 minutes' drive we arrive at Mr Pujota´s house where his eldest daughter, a 22-year old agronomy student, is waiting for us. Her name is Katherine Pujota, she is a shy, but self-confident, girl and she is eager to show us the family business. We follow her to the backyard and she opens the doors of the greenhouse  where her sister and aunt are currently working.
"My dad apologizes but he couldn't be here", she says, "he is looking after the big greenhouse located close to the border with Colombia". Since a very early age,   Katherine has spent  the majority of her spare time in the greenhouse together with her two sisters and she knows everything about the business.
In the greenhouse there are thousands of little plants, they all look the same to me, but I am pretty sure they are not. Indeed, there are pepper, celery, lettuce, broccoli, cauliflower, beetroot, tomato, chard and pepper plants to name but a few!  Each plant has a different life cycle and a specific maturity date for sale. Also, the prices vary a lot depending on the plant: a lettuce plant is sold for 2 cents (USD) and a little plant of zucchini or pickle can sell for up to 12 cents.
"In the past, we produced fewer  products, but now we are able to offer a   wide range of plants", she says proudly. "This is why we always need  microloans, they allow us to renew and increase our range   and to be able to adapt quickly to any  changes in  market demand". And she adds: "I chose agronomy  because I would like to carry on the family business and improve it even more".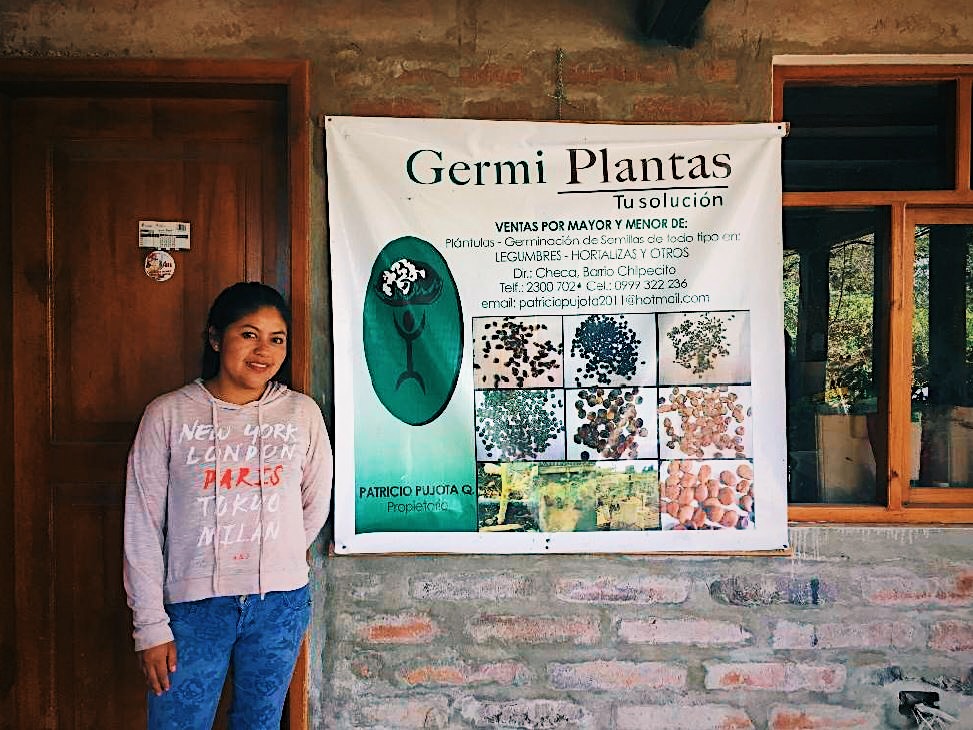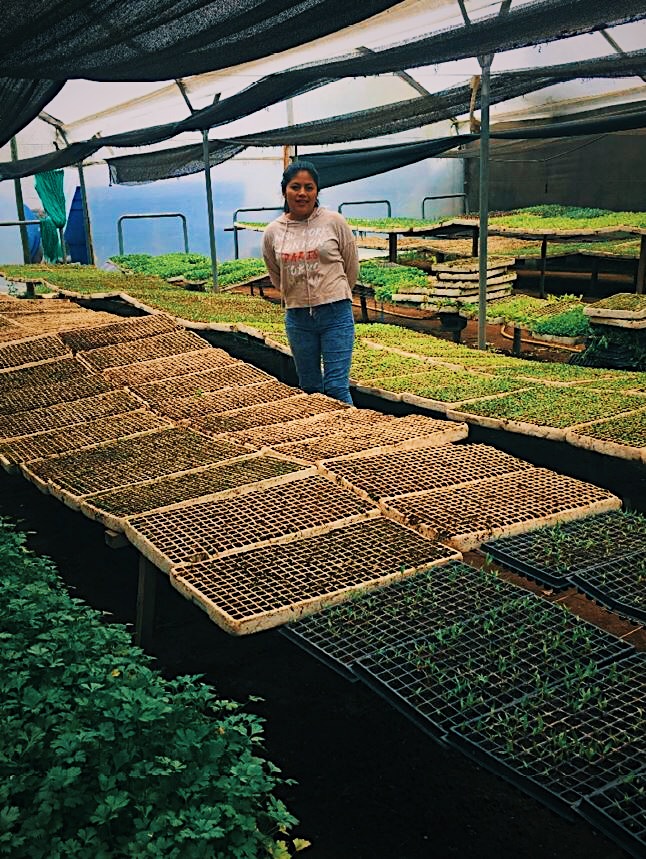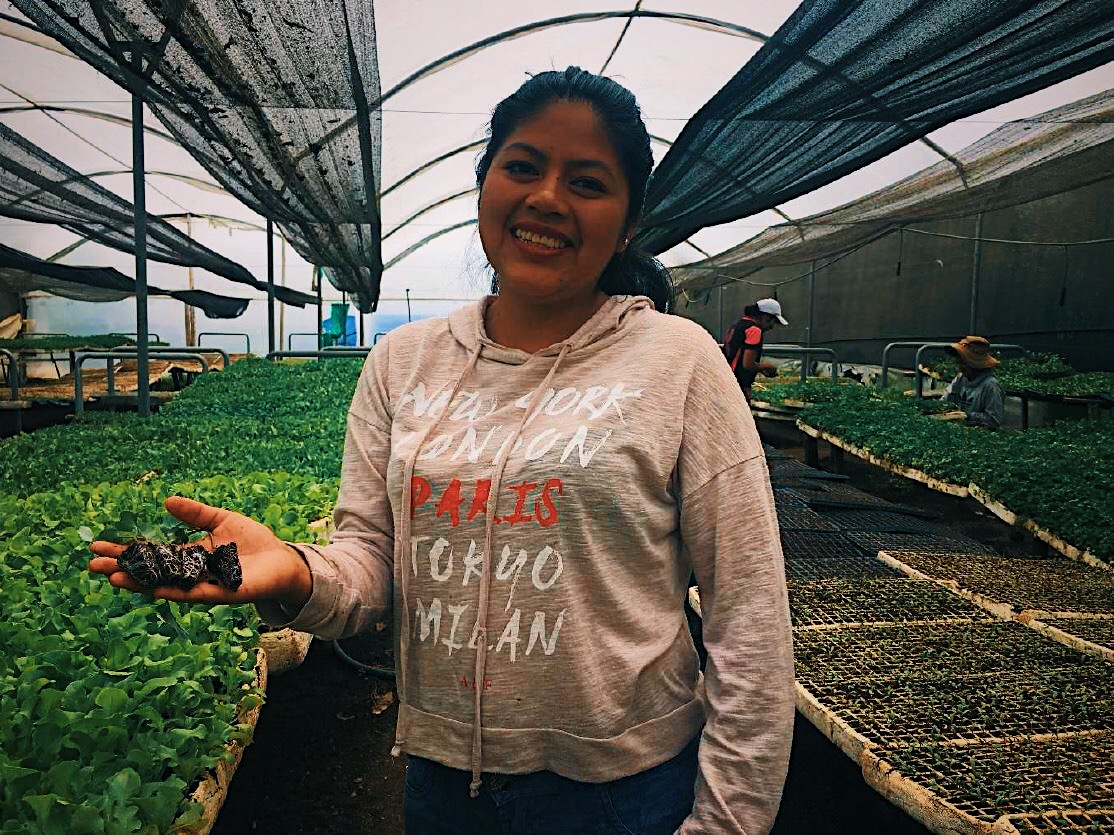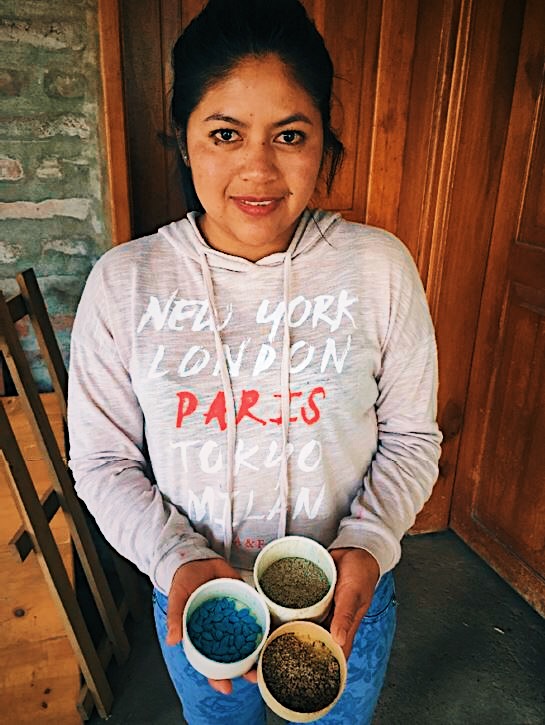 Jacqueline explains that she met Mr Pujota 15 years ago. At  that time he just had a very little greenhouse, nothing compared to what he has now.
I ask Katherine to tell me how everything started: "My dad and my mum were working together on a rose plantation but one day my dad decided to leave. Thanks to a microloan of just 500 USD, he built a very small greenhouse in my grandparents´ field. He had 50 trays, which is no  more than 10,000 plants, nothing. My mum was not happy at all with his decision, she was scared he was just giving up a safe job for something unknown and they had a lot of discussions. But my dad did not change his mind and here we are today".
"However", she says "at the beginning it wasn't  easy. My dad had to go to the market and physically look for clients. He found one entrepreneur who decided to do business with him and ordered 10,000 basil and parsley plants  and that was the turning point for us".
The Pujota family currently has a loan with Insotec for 15,000 USD and they used this loan to buy another piece of land close to the one they already have in the north of the country.
"We want to keep growing and diversifying our business", says Katherine, "we are thinking of buying more land and starting our own cultivation. Also, there is a project together with Insotec for creating a farmers' association". Jaqueline adds that, "I have identified the Pujota family as one of the potential leaders of this project because they are well structured and have contacts with many different clients".
But Insotec also provides ancillary services to their clients, such as medical, veterinary and legal assistance. I ask Katherine if they have ever benefited from any of these services and she tells me that her sister is currently receiving dental assistance.
The development of the business, the renovation of the house, the possibility for her and her sisters to go to university, everything started with a little 500 USD microloan more than 20 years ago. Katherine did not live through that initial period, but one can see that their parents have passed on the concepts of sacrifice, patience and passion. The way she is able to allocate one miniscule seed to each miniscule square, is definitely proof of love and patience!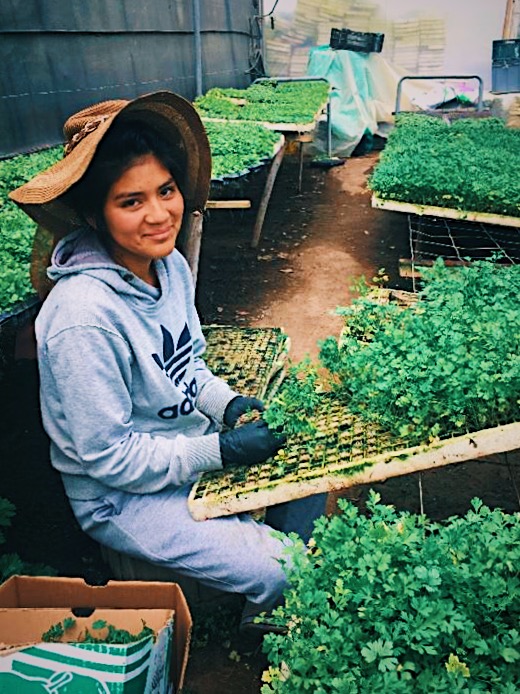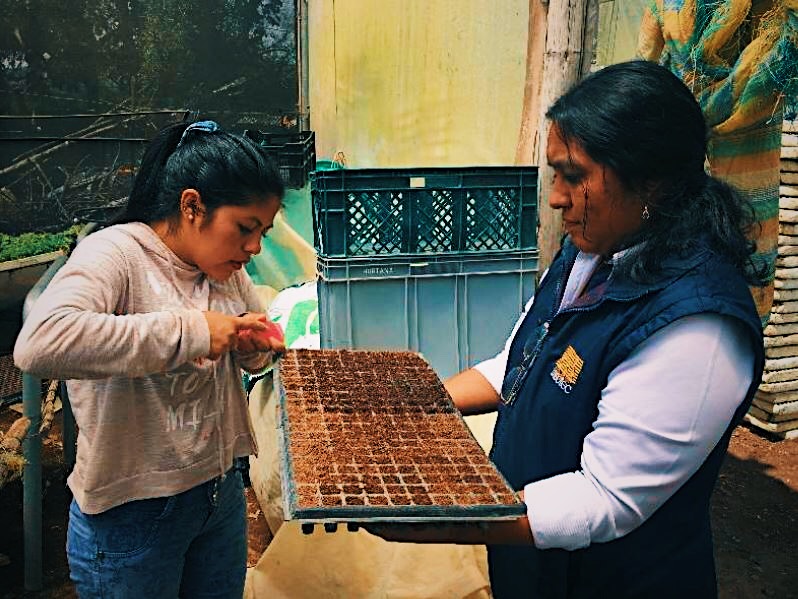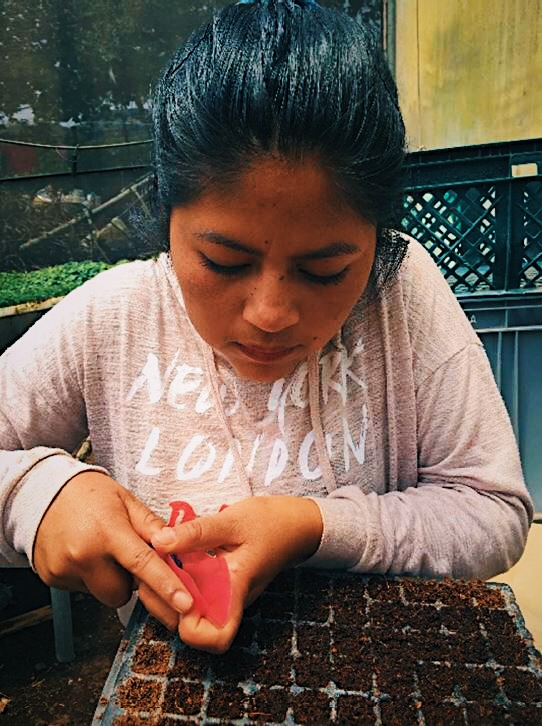 ---
Alfredo ZEPEDA
The strawberry plantation
Our next destination is Mr Alfredo 's strawberry plantation, which is close to town. When we arrive, a 40-year-old smiling man with a little kid on his shoulders opens the gate for us. In South America, kids in the parents´ workplace are a totally common thing and it can happen anywhere: in banks, in hospitals, in the fruit market etc…
Alfredo is not the owner of the land and he explains to me that, "here in the mountains, the land is too expensive, one hectare costs between 500 and 600 thousand USD. For us it is impossible to buy, so we rent".
He has three kids, the little one who is hanging around and two older daughters who are currently studying in Quito at the University.
"I started with agriculture 15 years ago, before I was making dresses but some of my relatives were cultivating strawberries and I could see that it was more profitable than my clothes shop. I looked for the possibility of borrowing  some money and I found out about  microcredit; I thought this was a unique opportunity because a normal bank would not have financed me".
He wants to make sure I get the point that microloans were, and are, fundamental for him: "today I am able to send my two daughters to university, this wouldn't have been possible if I had stayed with the clothes shop".
I discover that the investment required is very high: if we include the plants, the plastic covering and the irrigation system, Alfredo needs an investment of 25,000 USD  per hectare. "We are able to pay these costs up front just because we have access to microcredit", he says, "It wouldn´t be possible otherwise. For instance, recently I borrowed 10,000 USD from Insotec and I used it to buy plastic covering".
"But the microloans",  he continues, "are even more essential when we face hailstorms or any other plagues that destroy our plantations. Without access to the credit, everything would end at the first calamity".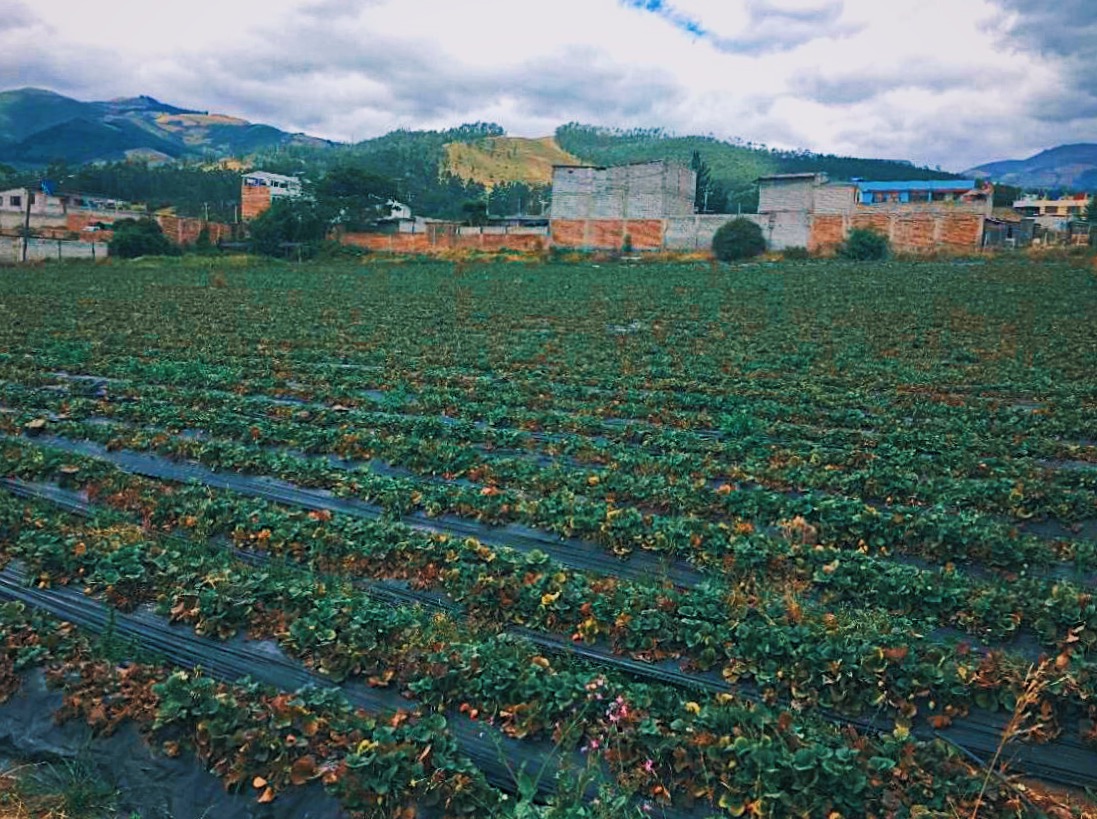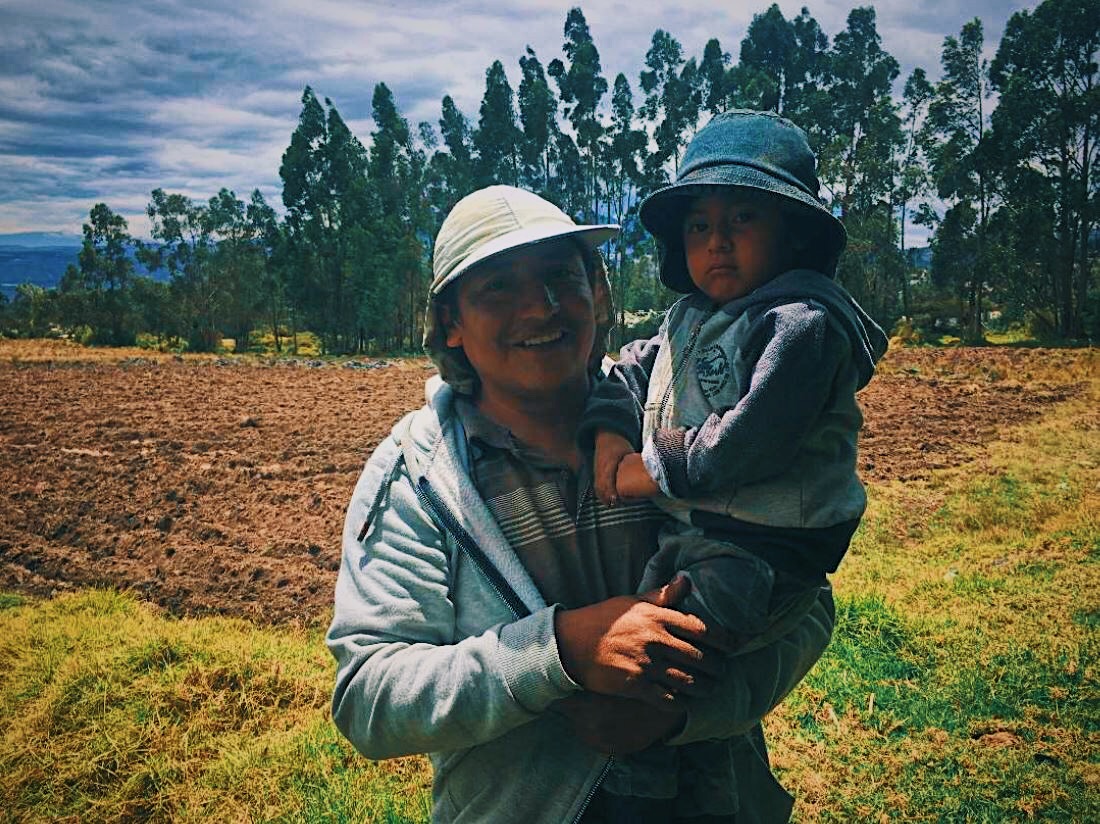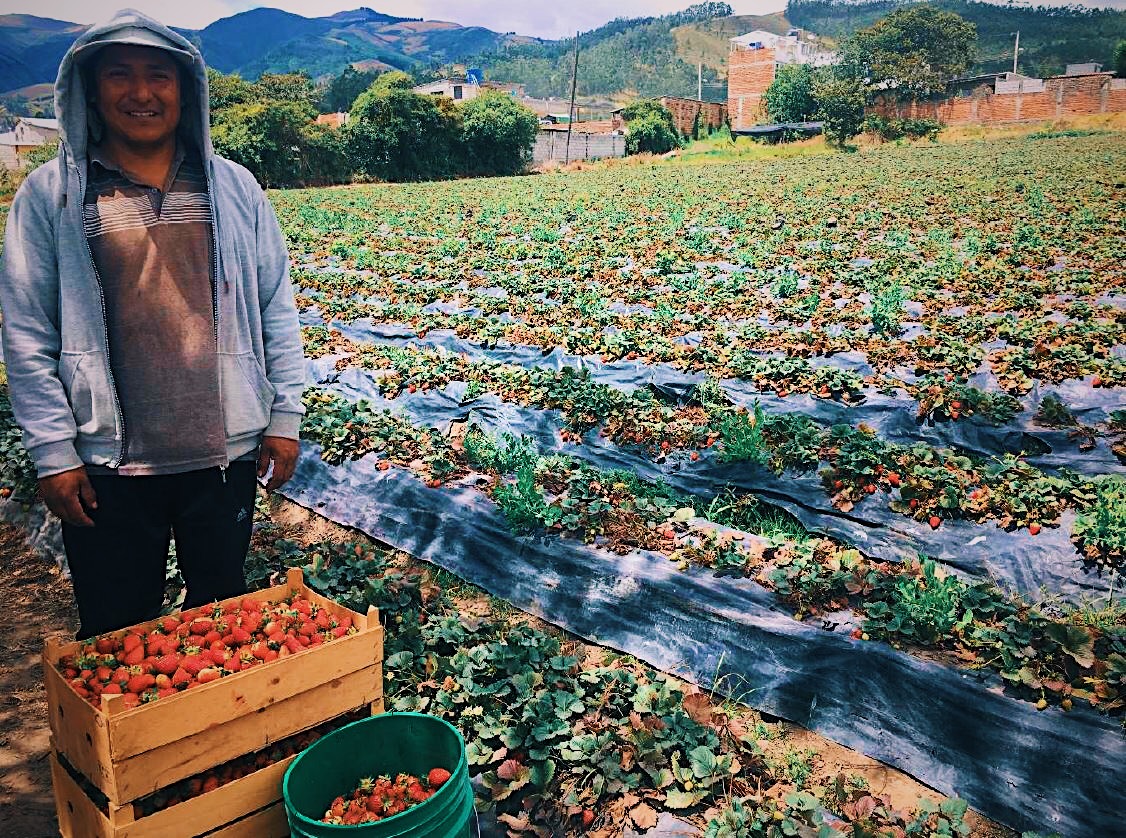 Jaqueline explains to me that experienced people like Alfredo try to limit  the risks by having plantations at different stages in their  life cycle so that  if one harvest is completely damaged by a hailstorm, he can focus on the land where the harvest has yet to happen.
Like Katherine, Alfredo is highly motivated and always looking for new solutions: "of course we are thinking about a way to limit the damage caused by   hailstorms, for instance I am checking out tunnels that can be used to protect the plants, but they seem to be very expensive and  I am not sure yet if it is an investment that I can afford".
While we drive back to the agency, I think about Jaqueline´s words when I asked her what she likes the most in her job, and I have the feeling that I understand them better now. I remember her saying: "I like that in microfinance there is a very close relationship with the client. When you provide a microloan, you get to know the person very well: you talk to the client, you talk to his family, you listen to them, you get to know their life, their past and you share their projects. These people have not benefited from higher education, they don't have a university degree or any languages skills but they have a bigger resource:  drive and  initiative. They are willing to take risks and eager to develop their business. Seeing every day that people like them manage to get ahead and succeed, this is my biggest satisfaction".