Body
Microfinance for them
The young entrepreneur project in Rwanda : Meeting with the first beneficiaries
To join the Mahoko agency, where ADA's "Young Entrepreneurs" project in Rwanda is being implemented, you must first leave Kigali, the capital. You have to take a winding road, but in good condition, through hills and forests, crossing the country westwards towards Gisenyi, on the shores of Lake Kivu, on the border with the Democratic Republic of Congo.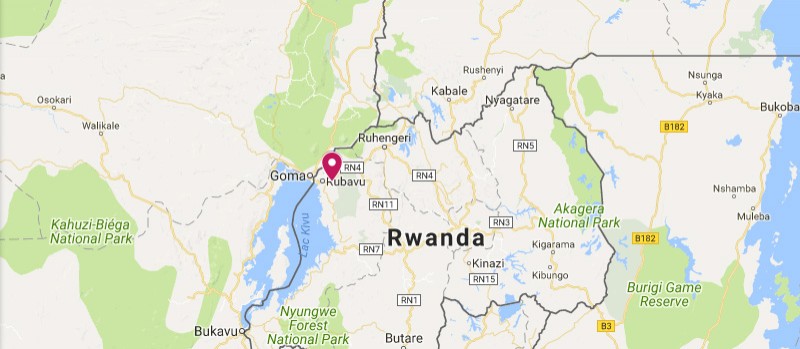 Twenty minutes before Gisenyi, turn off the road and drive slowly along a bumpy and stony dirt road through a small village, up a small hill and down the other side. You will then come to the Mahoko branch of UFC.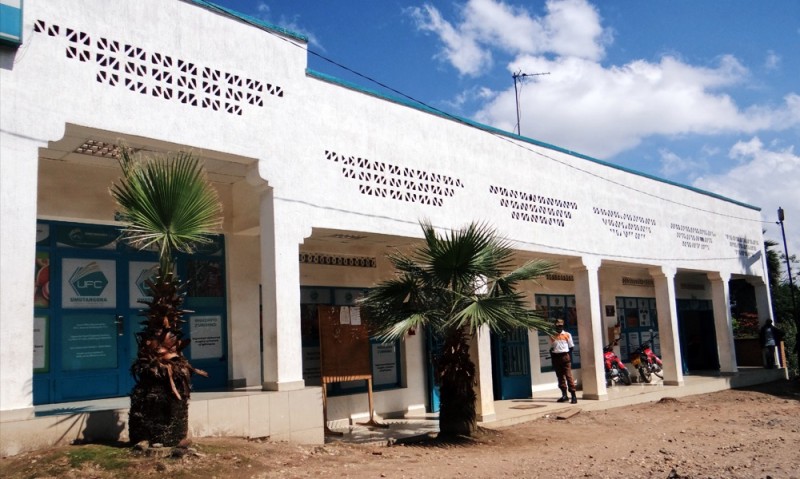 The Mahoko branch employs 11 people. It is located in a district with about 30,000 inhabitants, mainly farmers. It is in this sector that ADA and its partner UFC have decided to trial the young entrepreneur project. UFC is not the only microfinance firm present, as there are also three other MFIs and three banks offering microcredits. We are welcomed by Chantal, the manager of the Mahoko branch. She will be taking us to meet the first beneficiaries of the youth project.
---
The six people involved in the visit :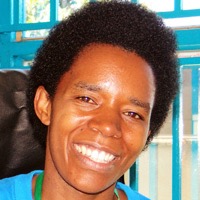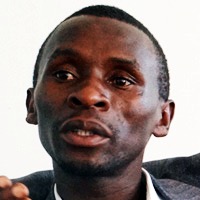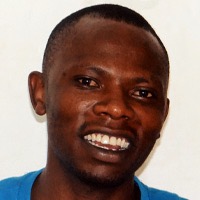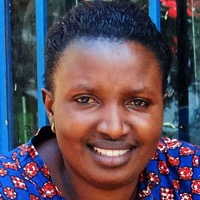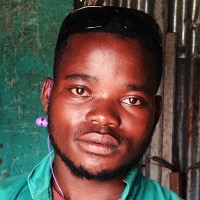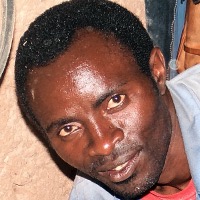 ---
Body
Pierre, joiner
Making the most of every opportunity
How could anyone fail to notice Pierre's joinery workshop? On the side of the road, four young people are busy working on chairs, various wooden objects and even a door. Sitting on a stool, an apprentice is rubbing down the legs of a piece of furniture with sandpaper. Another man standing nearby is varnishing a large piece of wood. His work is almost finished... A little further away, two men seem to be inspecting a casement. One of them waves at us: it is 30-year-old Pierre, who was able to get his joinery business off the ground with a loan from UFC.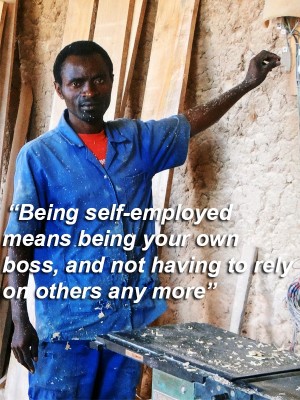 Pierre went into joinery somewhat belatedly just three years ago. After school, where he learned the basics of masonry, he followed his brother into the joinery trade. "He taught me everything I know", he explains modestly. By the time he was 27, he had landed a temporary job with a joiner. Very soon, he started thinking about opening his own workshop. "Being self-employed means being your own boss, and not having to rely on others any more", he says. But to get started, you have to buy the equipment. "To become a joiner, once you master the skills, you then need to buy the tools and even some machinery", says Pierre. Joinery involves sawing, marking, carving, cutting, grinding and sanding. Joiners who lack the necessary machinery must rely on other workshops, wait their turn, and pay to have the work done. "A waste of time and money" says Pierre.
Just over a year ago, Pierre heard about the UFC loan for young people under 30. He had a small amount of capital (one million Rwandan francs, the equivalent of a thousand euros) but wanted to borrow 1.5 million Rwandan francs (1,500 euros) to buy the equipment he needed. Thus, he met with credit agent Christian. Together, they put together a funding application. They studied Pierre's financing needs and, above all, his ability to repay the loan. The application was approved. Christian even accompanied Pierre to Kigali, where he purchased three machine tools.
Today, the workshop is doing well. Pierre has received expert advice from a mentor (a joinery instructor), particularly about how to maintain the machines. People come from all over Mahoko to use the saw, the grinder or the cutter. "Five or six people even came to ask me how I got these machines", laughs Pierre, "so I sent them to UFC...". Once the loan has been repaid, he plans to buy another machine and expand his workshop. Most importantly, Pierre has hired a worker and works with two assistant day labourers. That is the whole point of the project: besides generating value for the craftsperson, the project creates jobs. And those employees may one day become microentrepreneurs themselves...
---
Body
Marie-Chantal, hairdresser
I'm a hairdresser, therefore I am
The room is tiny, perhaps six sqm at most. Scissors and combs are laid out on a small counter, alongside a hood hairdryer. The faded blue walls are covered in pictures of models with impeccably styled hair, as if to remind us that we are in a hair salon. Five people are crammed into the room: a hairdresser and her apprentice are working on a customer, who is sitting on a plastic garden chair. Another customer is sitting on the floor, while an assistant applies highlights to her hair.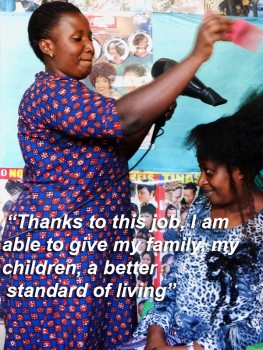 Welcome to Marie-Chantal's hair salon. She has been a hairdresser in Mahoko since 9 October 2017, the day she was granted a microloan of 675,000 Rwandan francs (675 euros)! "I will have finished paying off the loan in two years' time, on 9 October 2019", she says proudly. The loan enabled her to rent this room and buy her equipment: a hood hairdryer, hair straighteners, clippers, a mirror and so on…
Before she obtained the microloan, Marie-Chantal was a mobile hairdresser. She was often asked for discounts because she was working in her customers' homes. "Now they are all happy to pay the full price", she smiles. On very good days, as many as eight people visit her salon, which is called Mama'Axella after one of her little girls. "Thanks to this job, I am able to give my family, my children a better standard of living... So I wanted everyone to know that it's Axella's mum who runs the salon", she explains. Now this mother of two contributes extra money for the household.
"We have a much better standard of living". Her partner sells dried fish. The salon helps in smoothing their income. In addition to the loan, Marie-Chantal benefits from the support of a mentor, Solange, who is also a hairdresser and stresses the importance of good customer service. She advised Marie-Chantal on the location of her salon on a busy road that leads to a market, not far from a hotel. "The stallholders and hotel guests are all potential customers".
In less than two years, Marie-Chantal will have repaid her loan. If the salon continues to be successful, she even has plans to expand her business: "a bigger salon with better equipment and even a few employees...". By 2019, when Marie-Chantal is 29 years old, she will have a better life and a head still full of dreams.
---
Body
Janvier, welder
A firm believer.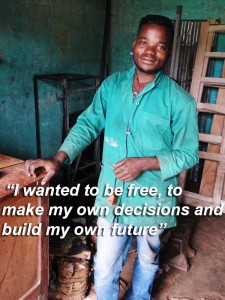 When 21-year-old Janvier left his home region to come to Mahoko a few years ago, how could he possibly have imagined that one day he would own his own business and that a microfinance institution would lend him 400,000 Rwandan francs (400 euros)? Four hundred euros does not seem very much at all, but it allowed him to buy a welding iron, an anvil and a sander, and rent a workshop.
Janvier, who is a qualified welder, has always wanted to be his own boss. "I wanted to be free, to make my own decisions and build my own future", he explains. So when he heard about UFC loans, he decided to try his luck. Very quickly, a relationship of mutual trust developed between Janvier and his credit agent, Christian. Janvier is also lucky enough to have his in-laws' full support. "I asked around", explains Christian, "and his father-in-law confirmed that he was a reliable, hard-working lad." Pacifique, his mentor, agrees: "I have no concerns about him at all. He is hardworking and reliable, and puts the money to good use". So Janvier makes metal gates, windows and doors, which he then sells for 70,000 to 80,000 Rwandan francs (70 to 80 euros).
Not only has the loan helped him with his business, it has also helped him with his personal life. He and his wife have just moved into a small home. He has a two-month-old child. He now has an income and can support his little family. And he has become "someone" in Mahoko: "People come to me for advice. I have already sent four customers to UFC".
---
Body
Pacifique, mentor
"Giving young people their pride back"
In the Young Entrepreneur project, the mentor is an expert who advises, supports and assists young people in getting their projects off the ground. Pacifique is a welding instructor. As such, he mainly helps and supports Janvier.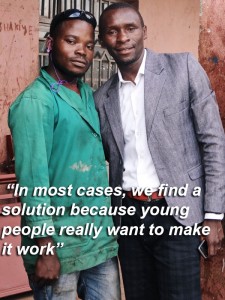 "My main task is to give young people their pride back", he says. Very often young people quit school at a very early age. They are unable to find a job, feel worthless, and lose their fighting spirit. Yet they possess certain technical skills. "So it's important to eradicate their complexes right from the start", explains Pacifique, who describes himself as a coach.
The rest of the process is more pragmatic. It involves explaining the basic idea behind micro and small businesses: to earn small amounts of money, which will gradually provide the entrepreneur with a better standard of living. Careful management is required: personal and business expenses must be handled separately... and some cash should be set aside. "You also have to be reliable and customer-friendly", Pacific adds. You have to make sure clients are welcome and listened to, and that you meet all commitments and deadlines.
According to Pacifique, the mentor's job is to be there whenever the young entrepreneur needs it. Of course, the programme provides for two intensive coaching sessions, but Pacifique pays frequent visits to his young entrepreneurs. He is also reachable at all times. "Young people will often call me when they have run into a serious problem. So I have to respond very quickly", he explains. The main causes of project failure are seasonality (when a young person is not sufficiently prepared for seasonally slack periods) and overly dispersed activity. "In most cases, we find a solution because young people really want to make it work", explains Pacifique. After dishing out all this advice, wouldn't Pacifique – who is only 30 years old – like to start his own business? "I would really like to set up my own training centre", he admits. All that remains to be done is finding a mentor for the mentor to come full circle.
Body
Christian, credit agent
On the ground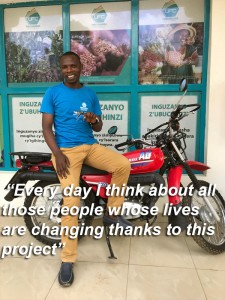 Thirty-year-old Christian, a credit agent at the Mahoko branch, starts by saying: "My job is an outdoor job. I spend maybe just one hour a day in my office". It has to be said that, as a credit agent assigned to the Young Entrepreneurs project he is very busy: in 2017, 68 microentrepreneurs were granted a loan. In 2018, 25 applications are being considered and 7 loans have already been granted. As of today, only one of those loans is causing problems: "One of the young entrepreneurs is ill".
To achieve such outstanding results, it is essential to work closely with the young applicants, to go out and meet them in the field, to study their projects and understand their expectations. "You may well have a young person who is full of good intentions and has a very good farming project for example, but in an area where nothing grows". So Christian is there, above all, to advise and coach. "I'm a little like an older brother", who brings the young entrepreneur back down to earth or who keeps a close eye on things. A project may fail for several reasons: "poor management, bad influences, a bad plan...", he explains. It is part of UFC's job to help young people avoid these pitfalls. "We all want the project to work", adds the credit agent. So, Christian is in the field much of the time. He covers a large territory/area. Some young customers are a three-hour drive away. Nevertheless, he wants to meet young entrepreneurs on their home ground, talk to their families, and visit potential premises with them. In short, he builds a relationship of trust. "I often put myself in the position of the young person who comes to see me. It's easy for me, I'm almost the same age", he adds. Christian sometimes even goes with his customers to purchase equipment (link to Pierre, joiner). As a credit agent, Christian provides financing for entrepreneurs. By doing so, he has become one of them, which is something he is very proud of: "Every day I think about all those people whose lives are changing thanks to this project."
Body
Chantal, UFC regional branch coordinator
Changing the lives of customers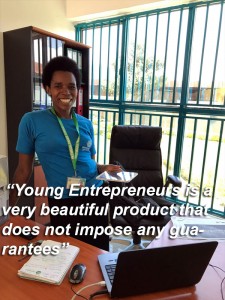 At 34, Chantal already has 14 years' experience in the microfinance sector and at UFC in particular. She began her career on 9 June 2004 as a cashier at UFC, before moving on to become a credit agent and then a branch manager. She has been coordinating the regional branch in Mahoko since 2015. She says she is very proud to be at the head of the pilot area, where the Young Entrepreneurs project was first launched. "It's a very good product", she explains, "which helps young people without requiring guarantees. It was a surprising move for the industry." This paradigm shift was led jointly by ADA and UFC. "We work so closely together that we have become like colleagues", says Chantal.
It must also be pointed out that young people – when they feel trusted – are good at repaying. "It's all about mindset", she adds. The project is working well and will be extended to three other branches in the Mahoko region in 2018. Without guarantees, but with a real social role for all these young unemployed people, it is drawing a lot of interest. "At UFC, we do sound management and microfinance", she says. She prides herself on what she does, which helps people to have a better life. "One of our customers, who started out with a loan of 100,000 Rwandan francs (100 euros), came back to see us recently to say thank you". He now has 30 million Rwandan francs (30,000 euros). "He's richer than me now", she laughs.
---