Body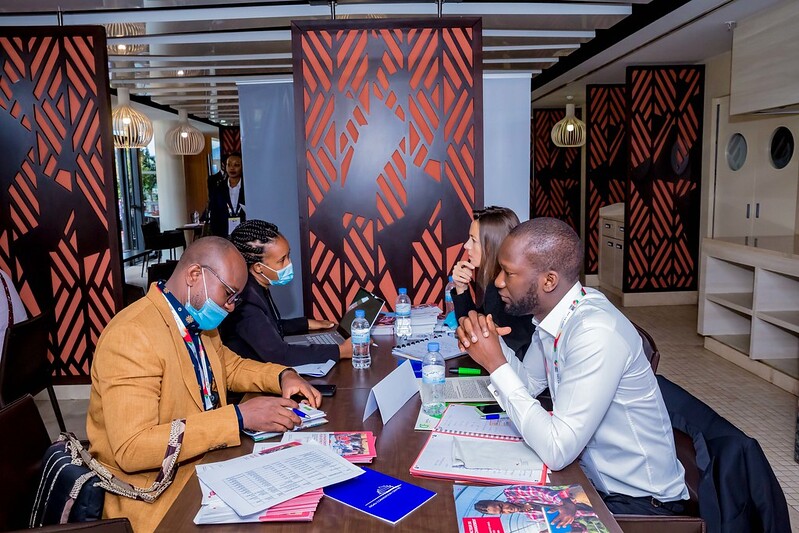 Project objective
Support and assist MFIs in their fundraising
Areas of intervention
Latin America, Southeast Asia, Central Asia, Africa
Key figures Q4 2021
Portfolio under management: EUR 36 million
48 MFIs funded in 27 countries
75 495 microentrepreneurs directly reached 
65% of women clients
24% of agricultural clients
49% of service providers and small shops
IMF employees: 16 954
Partner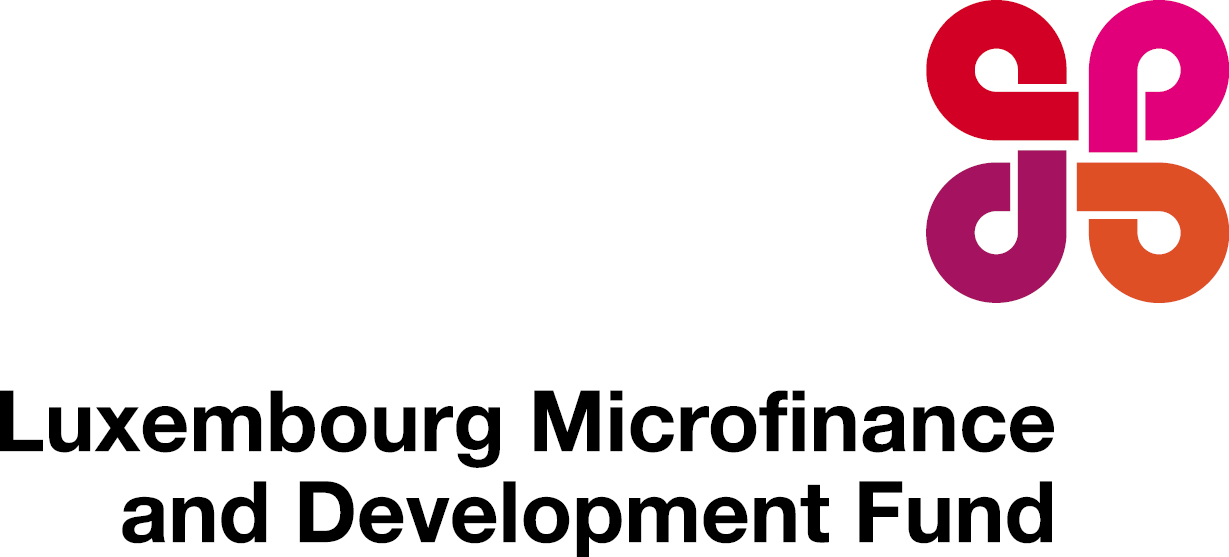 Contact
Body
​

 Sustainable funding for your MFI
---
Through the Luxembourg social fund LMDF, ADA offers 2 types of funding for Tier 2 and 3 MFIs located in Africa, Latin America, Southeast and Central Asia. In addition, ADA can provide technical assistance.
---
Since 1994, ADA has been committed to strengthening the financial inclusion of population groups excluded from the conventional banking sector through tailored financing and technical assistance for microfinance institutions (MFIs), with an emphasis on forging long-term partnerships.
Thanks to a socially responsible investment fund, created by ADA in 2009, the Luxembourg Microfinance and Development Fund (LMDF), ADA has funding solutions for the growing MFIs.
Financial services for MFIs....
ADA offers 2 types of funding for Tier 2 and 3 MFIs located in Africa, Latin America, Southeast and Central Asia:
Senior debt: an amount between USD 0,2 and 2 million, granted in local currency, USD or EUR, with a maximum term of 5 years, at the market rate.
Subordinated debt: an amount between USD 0,2 and 2 million, granted in local currency, USD or EUR, with a term of between 5 and 7 years, at the market rate.
 
...combined with non-financial services
Other than offering financial services, ADA can propose:
support, listening and follow-up from its team during the entire funding cycle;
technical assistance, management tools, various training courses (financial and social performance, risk management, agricultural finance, digital finance, etc.).
(The offer is only applicable to certain geographical areas)
---
LMDF and co-financing
LMDF (Luxembourg Microfinance and Development Fund) is a Luxembourg investment fund established by ADA in 2009, which main aim is to facilitate access to a more responsible form of financing by creating long-term relationships between investors, the MFIs and their clients.
ADA has a dedicated team which provides investment advice to LMDF. Its work is, first of all, about identifying MFIs with a strong social and financial performance matching the profile sought by LMDF amongst the small MFIs (Tier II and III). To this purpose, the team undertakes prospecting missions in the field, to meet with MFIs or to attend events (conferences, Investor Fairs, …). If an MFI meets the eligibility criteria, ADA performs a preliminary audit in the field, called due diligence, to check the MFI's financial figures and to meet with its managers and clients. Once it is back in Luxembourg, ADA submits the application for financing to the LMDF Committee, which decides whether to invest in the MFI through senior or subordinated loans. The time between application and grant varies from 3 to 6 months depending on access to information and compliance with eligibility criteria.
ADA may also provide complementary funding so as to directly co-finance certain activities carried out by the MFI. One example of the co-financing is the payment of all, or part, of the costs of the assessments carried out by rating agencies specialised in microfinance.
---
Eligibility criteria for funding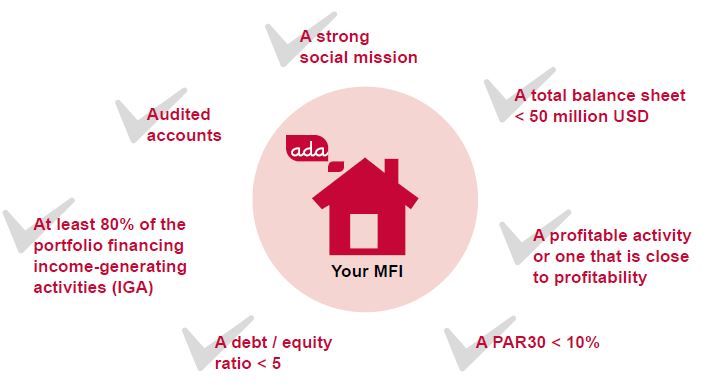 ---
The 7 steps in the process of obtaining funding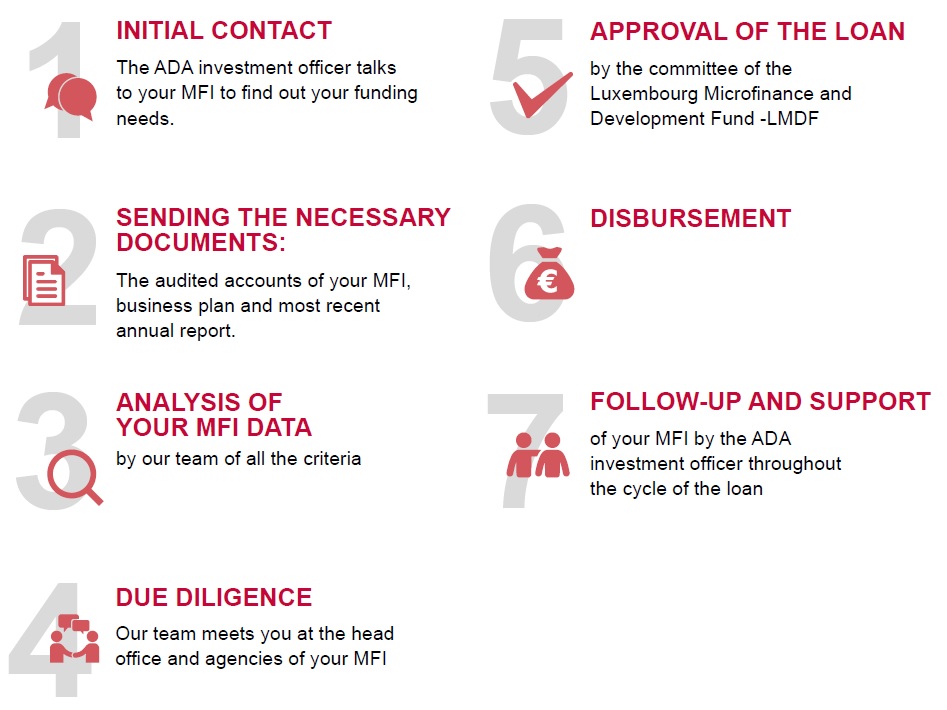 Body
---
"A greater impact of our funding"
Laura Foschi, Executive Director at ADA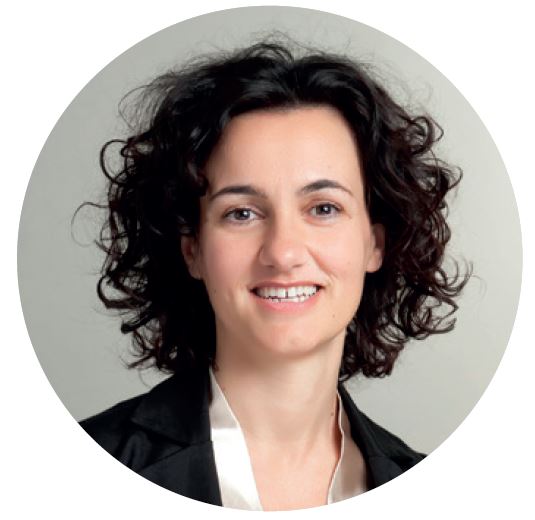 "With almost 50 microfinance institutions financed in 27 countries, ADA, through the LMDF Fund, becomes a relevant partner of choice for MFIs. It should be noted that ADA's role is not limited to the provision of financial resources. We are committed to our partners and build our relationship through continuous monitoring. Our team remains at your entire disposal to jointly implement long-term actions.
IIn addition to financing and monitoring, we can and want to offer tailor-made technical assistance to our partners when the need arises. 75% of the MFIs we fund benefit from this personalized support and/or capacity building that we define together. All our will and vision is focused on providing institutions with the necessary means (financial or technical) to act.
We operate in four major regions: Africa, Latin America, Southeast Asia and Central Asia. This diversification is a strength and an opportunity. It demonstrates our success, our aspirations and our capabilities. ADA, with LMDF and the support of the Government of Luxembourg, uses the experience of one of the world's leading financial centres to support socially responsible MFIs, which are the main actors in the fight against poverty, and for financial inclusion."
---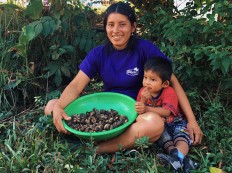 What is the use of microcredit? The case of the Mishkiyaquillo community
ADA has followed a community that has benefited from ADA's support through LMDF funding.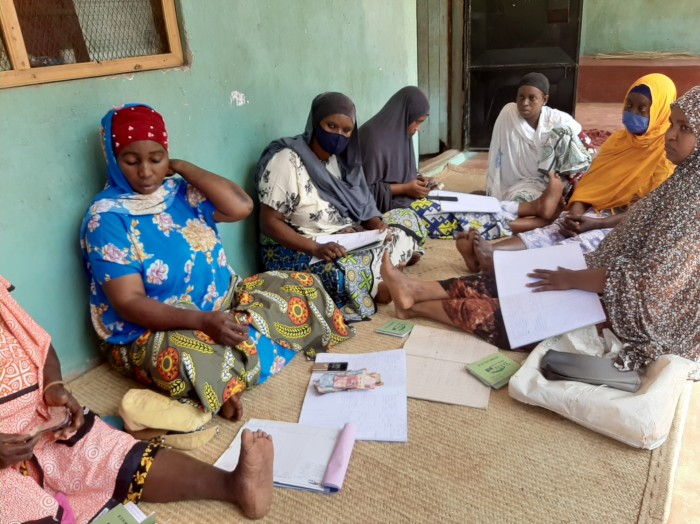 ADA and LMDF Strengthen Financial Inclusion on the Kenyan Coast
In September 2020, Olivia Fechner, our Investment Officer based in Kenya, performed her first Covid due diligence at the MFI Yehu Microfinance Ltd in Mombassa. The due diligence paid particular attention to the MFI's management of the crisis, especially in terms of human resources, team management, adaptation to the restrictions put in place by the government (curfew), the closure of Mombassa and the impact on clients and repayments.
In December 2020, LMDF, the Luxembourg fund advised by ADA, disburses a first loan to the Kenyan MFI. Through a group methodology, YEHU targets women micro-entrepreneurs on the Kenyan coast by offering them loans adapted to their income, coupled with a training offer. This financing is the result of a long process of analysis and discussions started several years ago. Indeed, this collaboration begins in 2016, when ADA meets for the first time with YEHU in Mombassa. The MFI had been looking for a strong social impact but was facing IT problems that prevented it from having access to reliable data on its performance. In collaboration with the Kenyan firm Finaltus, ADA supported the MFI with the implementation of a new information system that allows the institution to have access to quality information and to meet the investment criteria of the LMDF fund leading to the disbursement of a first financing at the end of 2020. This approach illustrates ADA's willingness to build a solid long-term partnership with its partner MFIs.
About Yehu Microfinance Ltd
Yehu Enterprises Support Services (YESS) was established in 1998 as a project of Choice Humanitarian Kenya, a US-based international NGO. Initially set up to mobilise its members' savings, the demand for credit quickly became apparent and in 2000 YESS started its credit activities. Its growth led the organisation to become independent from Choice Humanitarian Kenya and to transform itself into an independent NGO in 2006. In April 2016, YESS was transformed into a limited liability company, Yehu Microfinance Ltd. The NGO remains the majority shareholder with 88% of the shares.
Yehu concentrates its operations in the coastal area of Kenya, an area much less served by the microfinance sector.
Yehu Microfinance Ltd. is characterised by the pursuit of a strong social impact. Through a group methodology, Yehu targets women (96% of clients) living in rural areas (70% of clients) and offers loans with an average amount of EUR 312. Its credits are associated with a range of financial education and business management training courses.