Body
 Adding a new dimension to microfinance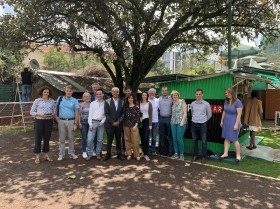 ---
The model of microfinance institutions (MFIs) is evolving constantly. MFIs are increasingly using both traditional and digital approaches to serve people in the remotest areas. This is what we call "microfinance plus". On February 3-7, ADA, an adviser to the Fund, and certain LMDF investment committee members met with institutions in Kenya having this profile.
---
Capitalizing on the opportunities offered by going digital
In Kenya, numerous institutions offer technology-based products and services.
Particularly M-Pesa, the Kenyan mobile operator Safaricom's financial services platform, has inspired some organizations to financially include underserved populations. "Digital complements the service offerings of microfinance institutions", states Laura Foschi, ADA's executive director. "We are talking about microfinance plus, or innovative microfinance".
Therefore, if the advantages of going digital are so obvious "technology should not be an end in itself", points out Thomas Lammar, a member of the LMDF committee who works at Luxembourg's Ministry for Foreign and European Affairs, adding "it must complement the human touch".
Kenya, the cradle of digital finance in Africa
Together with China and the Philippines, Kenya is one of the world's digital pioneers with a mobile penetration rate of 90%. It is even the inventor of mobile banking: 73% of adult Kenyans have an on-line account, compared to just 65% for Europeans.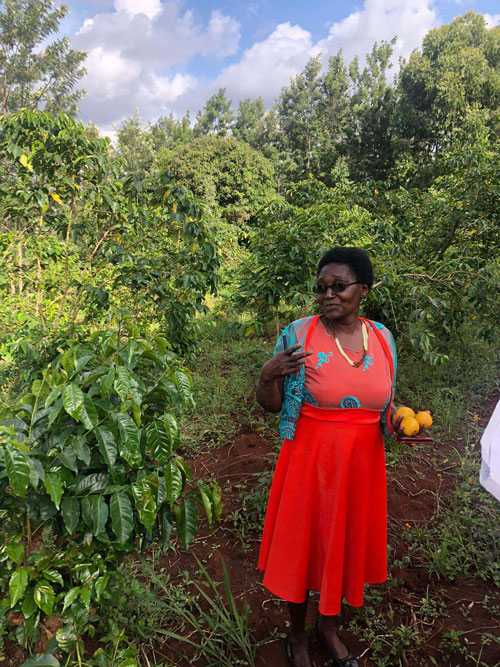 This is why LMDF, together with ADA, chose this country for a field trip. Taking advantage of the presence of an ADA Investment Officer based in Nairobi (Olivia Fechner), ADA and LMDF identified a varied and interesting range of institutions to visit in order to get an overview of what is being done on the ground. Olivia Fechner points out that "Kenya is a dynamic country, be it Fintech, digital finance, mobile money… things go very fast here and many new initiatives emerge every day!". The idea of this field trip was to see how, in a fast-growing market such as this, digital initiatives reach customers not yet served by traditional MFIs reinforcing financial inclusion.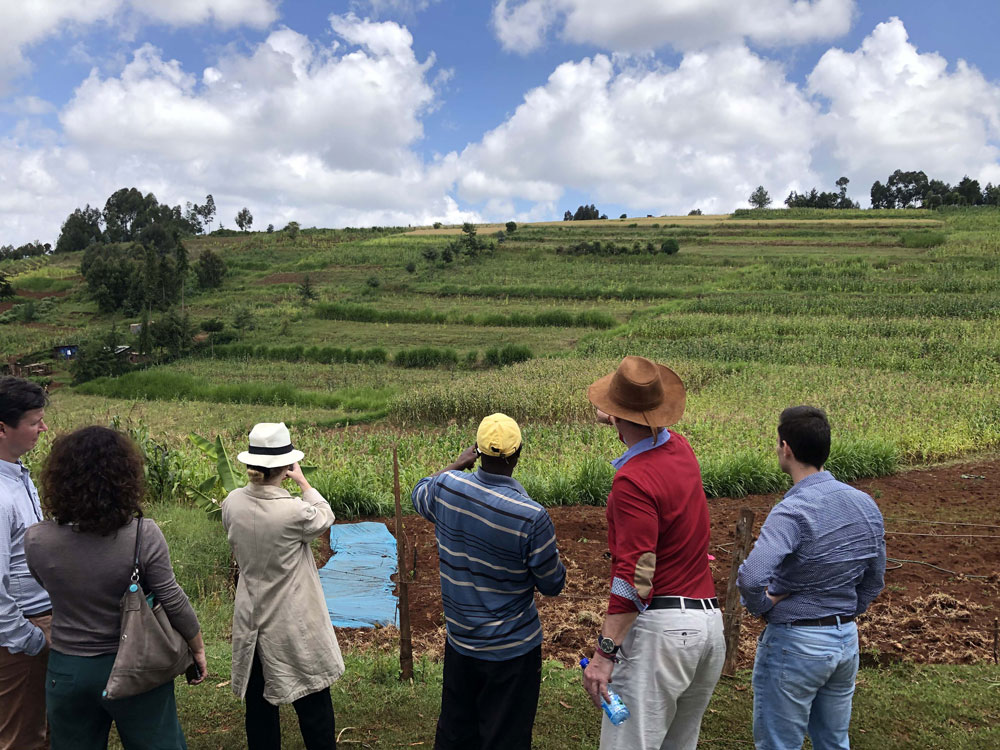 For Philippe Dardart, Head of Private Banking at BGL, "it is quite striking to witness what a country such as Kenya can produce in the way of technological solutions, particularly the wireless ones via mobile phones. In some aspects, the country is even more developed than ours in terms of applications!".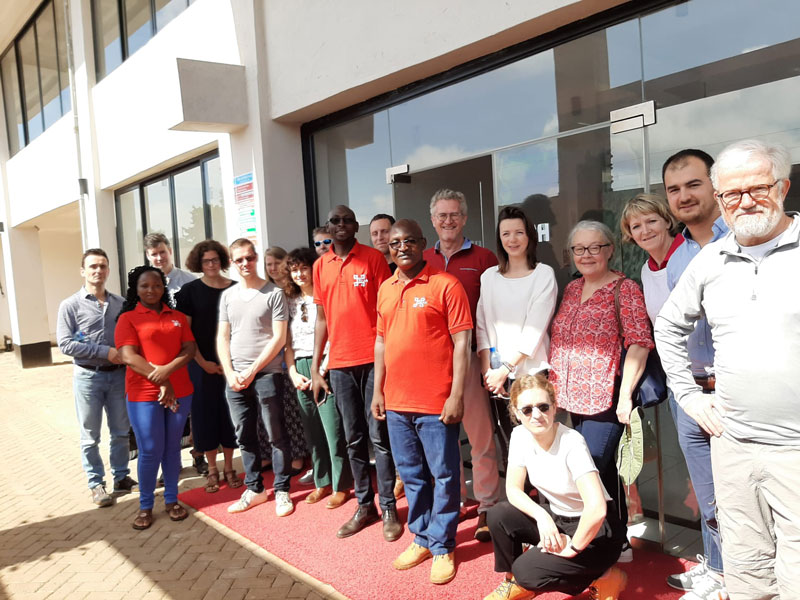 Focusing on industry trends
New trends have emerged in the industry. Eager to know about this firsthand, LMDF travelled to meet with these new players: M-Kopa, sells solar equipment; Tulaa, provides a mobile platform allowing farmers to buy agricultural inputs; and Bimas, a microfinance institution already financed by LMDF.
1st day: M-Kopa, when solar energy and electricity go hand in hand
In Kenya, 75% of the population has no access to electricity. It is quite difficult then to imagine how to light a room or even charge a mobile phone. The solar panel seems the most obvious means of getting electricity. And that, M-Kopa knows very well. Since 2012, this institution provides home solar systems to people not connected to the national power grid, ranging from a basic kit (4 lamps, a small solar panel, a radio, a battery, a flashlight and a USB cable) to more elaborate equipment like TV sets, stoves, larger solar panels, large batteries or even solar powered refrigerators. In practice, the system works somewhat like a leasing — the customer buys the kit with a down payment of 15-20% and then pays a $0.5 daily fee for the use of the equipment. Payment are carried out through M-Pesa, or through an app if the customer has a smartphone; otherwise via the USSD menu, which posts a parameterized options menu as soon as the customer dials the M-Pesa code on his/her mobile. When the customer finishes paying all of the installments, the product is his/hers to use it as he/she sees fit. For more expensive equipment such as TV sets, fridges and so on, the system is the same only the installment payments are higher.
In addition to mobile money, M-Kopa set up a 300 people strong call center available 24/7 which also provides after-sales service and the activation of equipment. The use of mobile money and a call center allows M-Kopa to remotely manage daily payments and to serve populations located in very remote areas.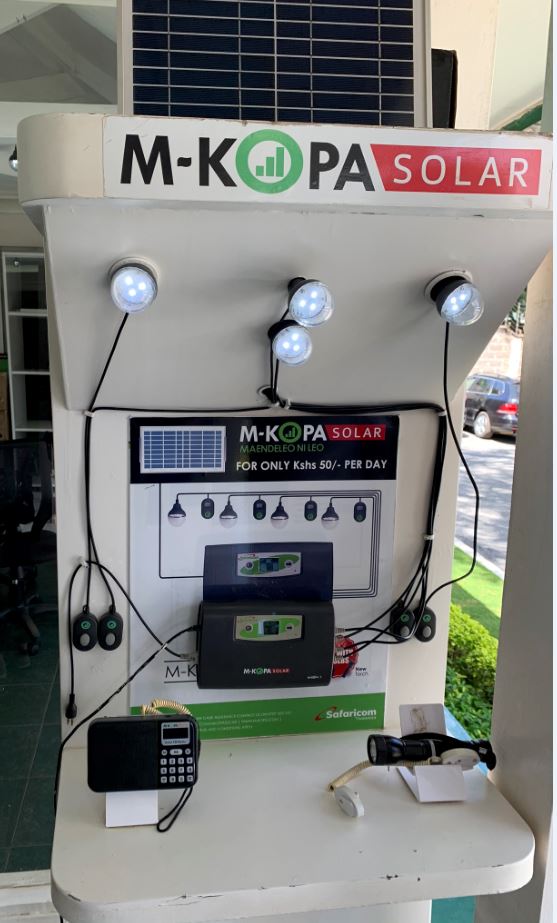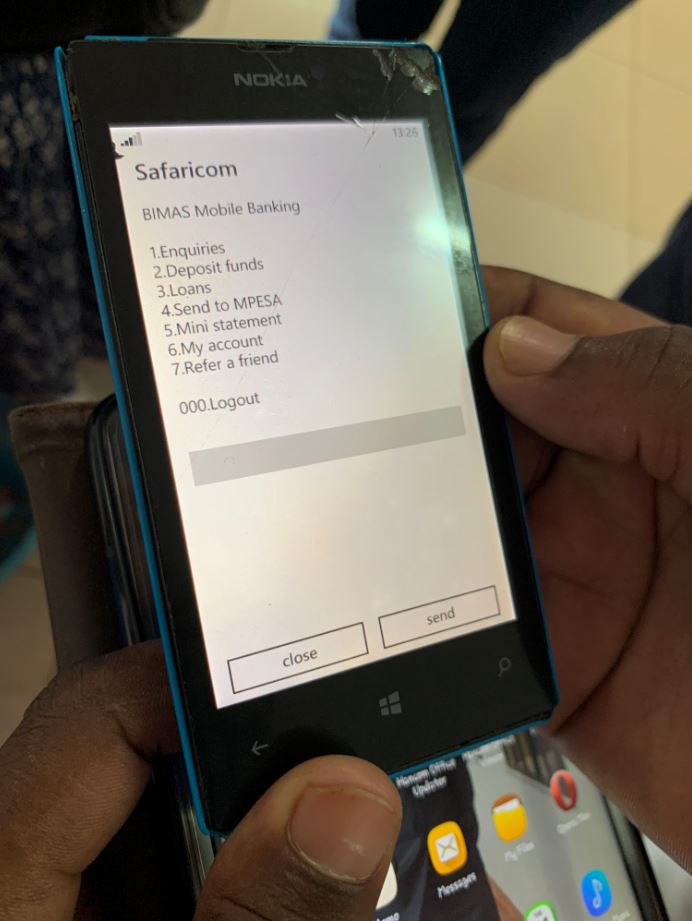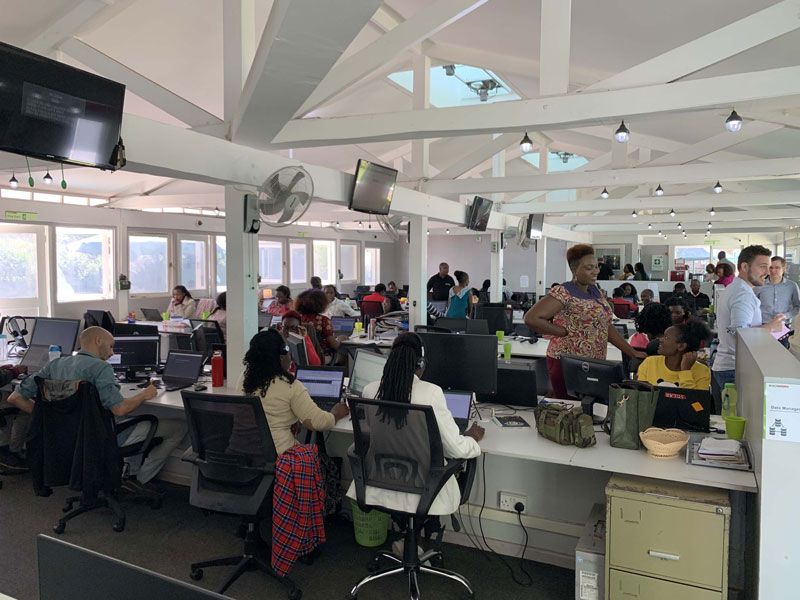 Among the dozens of Kenyan players offering the same concept, M-Kopa has succeeded in being the market leader and is now close to break-even, something quite rare in this industry. True to its slogan "Upgrading people's lives", M-Kopa has already given 850,000 homes access to electricity, impacting the lives of 3,5 million people. According to Victor Muller, ADA's Microfinance Risk Officer, "at the beginning, LMDF was a little skeptical about the idea of financing an institution offering consumption goods. However once on site, we realized that the lamps were not only used to light houses in the evening, but also stores, hen houses…".  "What the members of the investment, administration, and risk committees were very pleased about, was quite simply the realization of what an MFI is really like on the ground, namely its team, the end customers and beneficiaries… The M-Pesa brand is everywhere and we were able to observe how much people use their phones, and that credit agents had applications. For certain committee members, it was their first trip ever to Africa, the first time they saw an MFI.", remarks Olivia.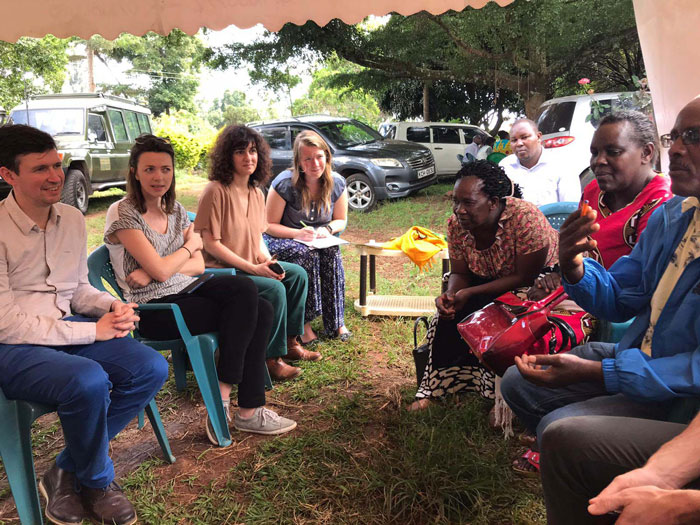 2nd day: Bimas, an MFI going through a digital transition
For this second day of field trip, the whole team travelled by car to Embu, some 100 km north of the capital to get to know Bimas, a more traditional MFI financed by LMDF since 2019. Voluntarily located in a rural area, the MFI prioritizes being close to its customers. Since LMDF's investment, it has made a considerable effort to digitize its internal processes, without neglecting the human aspects and customer relations. "Bimas is in the process of going digital, improving its digital services offering to meet its customer's needs", points out Laura Foschi. The MFI is now able to disburse a loan in a matter of hours, whereas it used to take them days.
Victor Muller is enthusiastic about this visit: "We met the main office team who made us a presentation about their digital strategy, we then went on to call on customers. That allowed the committee to experience the reality first hand, to see how much time it takes to move around, travelling on small country roads… I found it interesting to bring a group of Luxemburgers to Kenya to get to talk to a microentrepreneur who borrowed 300 euros!".
3rd day: Tulaa, or how to grant loans to finance agricultural raw materials   
The last but not the least of the day's meetings: Tulaa, a start-up launched in 2019, uses a digital platform to finance the agricultural value chain of potato and cabbage. Farmers start by placing an order for inputs needed for their production (seeds, fertilizer) using Tulaa's mobile app. They then receive an electronic voucher a few hours later allowing them to collect the order at the retailer. As soon as the delivery is completed, Tulaa pays the retailer. The reimbursement process then starts for the farmer, who will only pay interests on the principal during the first few months and then, at harvest time, the remainder of interest plus the principal. After harvest, Tulaa facilitates farmers' access to the market by putting them in contact with intermediaries, so that they can trade fairly their production. Farmers are not necessarily able to move around nor have a contact network allowing them to choose suitable purchasers to sell to at the best prices, they are indeed often constrained to sell to intermediaries of the agri-food industry which have a strong negotiating power and leave them just a little margin. "Tulaa helps with marketing and finding purchasers so that farmers have an easier market access and better prices", Victor Muller adds. "At the same time, we advise our customers via their mobile phone throughout the life of the loan", adds the regional manager of Tulaa. This invaluable advice has to do with the best timing to sow and harvest, information on market prices… "This guidance helps them improve their productivity", he goes on. "We also use technology to provide them feedback by means of surveys so as to keep improving our processes.".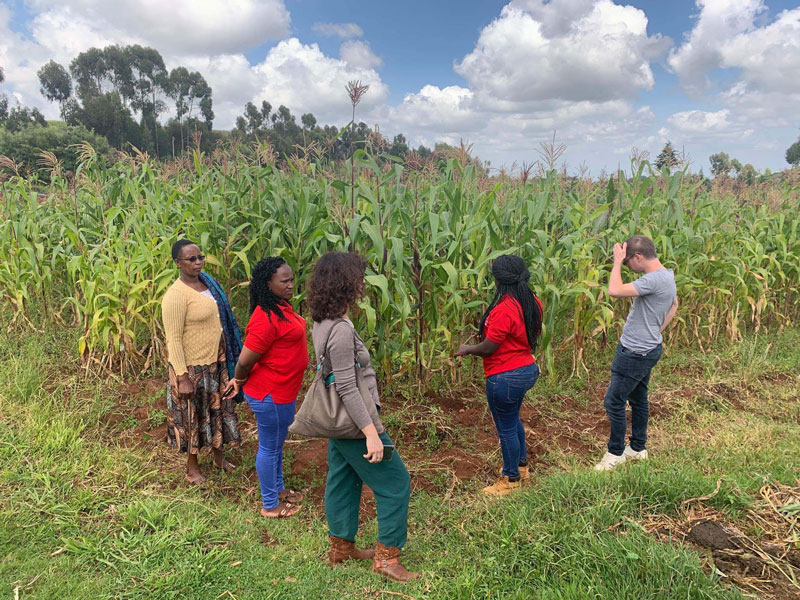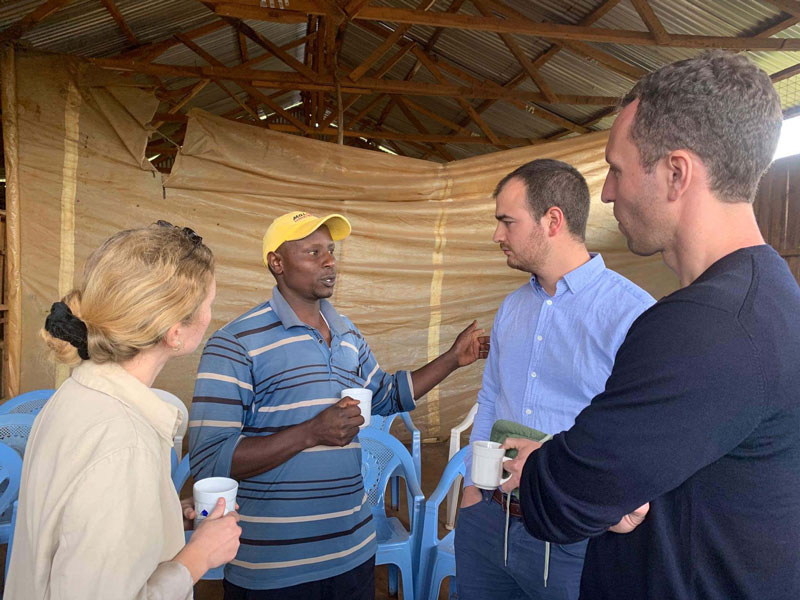 For the occasion, Tulaa organized a meeting-debate between management and customers. An open session allowing everyone to express their points of view and to pinpoint what does or does not work. The customers talked about their needs, mentioned the rainy season which was catastrophic, the locust invasion currently affecting Kenya, climate change, the quality of fertilizers, the potato harvest which did not go as expected… A debate that Raymond Schadeck particularly liked: "Tulaa's sales manager truly impressed me. He had the courage to start the debate in front of his customers by asking them whether they had any questions and what they expected from him. An initiative greeted by the peasants who appreciate having a flesh and blood individual to interact with, a human contact! More just a loan, this is real support. The peasants are even ready to pay higher prices for their fertilizers via Tulaa rather than buying it subsidized from the government. How come? Because of the quality and the reliability of the crop inputs and because they trust Tulaa".
The visit to Tulaa went on with an on the ground visit to the farmers. Victor Muller remembers it: "They grow a little bit of everything. This is interesting for us town dwellers to go back to the land, to see the potatoes, the cabbage…". For Anne Contreras, Counsel at Arendt, "there was very good chemistry in the group. Getting to see these institutions on the ground felt like a present".
4th day: Meeting of LMDF's investment committee
This year, LMDF seized the opportunity of holding its investment committee in Kenya. Several subjects were in the agenda, particularly the presentation of an investment case, M-Kopa, which was previously analyzed by ADA's investment team through a due diligence, and by on-site visits as well. "LMDF generally seeks very rural institutions focusing on agriculture", Olivia Fechner points out.
For LMDF's President, "these models allow us to remain true to LDMF's mission. It is microfinance with another name, but the processes are the same, as are the risks. M-Kopa has 800,000 customers, an enormous diversification".  "It is an institution that maintains reasonable pricing and adds real value for their customers as compared to traditional microfinance", Olivia points out.
New technologies yes, but not at any price
"The fact that technology allows you to reach more people, faster and cheaper is a very good thing" notes Philippe Dardart. "On the other hand, you have to keep in mind the reason why you grant a loan, to whom and how is the repayment capacity measured. Technology makes loans readily available almost everywhere, so you need to be vigilant because bad practices can now spread even faster than before. Technology must remain a means but an end in itself. A bad loan will remain a bad loan, be it granted with phone or a pencil.".
Other questions about how to keep control of borrowers were also raised. For Anne Contreras, "technology is great, but it raises a lot of questions about how to control people, especially for us coming from very regulated jurisdictions. It is important to set up a framework to ensure we deal with flesh and blood people so that we can control somehow their borrowing capacity and why they borrow. Surprisingly, certain loans intended for agriculture end up being used to pay the schooling of children.".
Beyond these human aspects, the adoption of the product by the MFI also seems to play some role, and "this has to do above all with education", as Raymond Schadeck stresses.

Outcomes of a field trip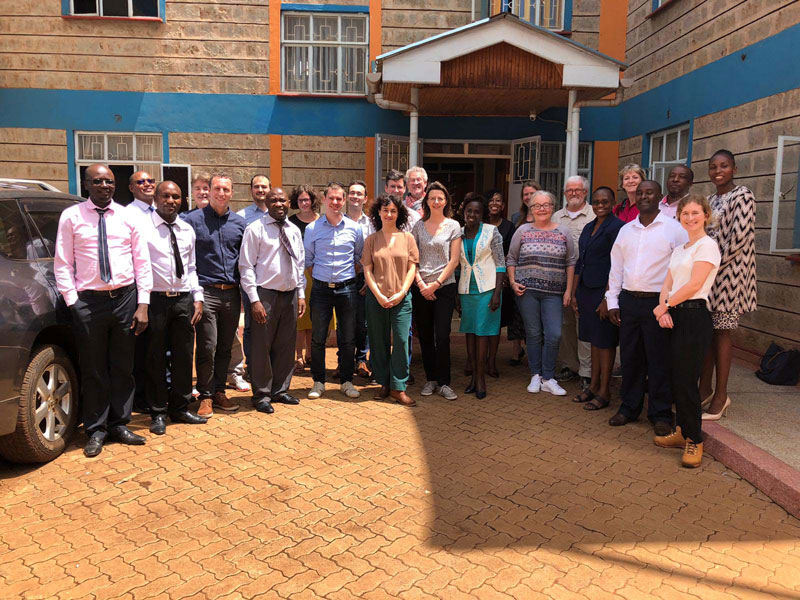 In the end, was it a good experience? It obviously was! If you ask Anne Contreras, she's already expecting the next trip! "It was very instructive, and it allowed me to visualize what the funds structuring we do here every day is all about. That makes me feel that even if we're not saving the world, it is not that meaningless either.". For Raymond Schadeck, it was also the opportunity to establish relationships: "ADA and LMDF work together on many Sustainable Development Goals. This trip to Kenya allowed me to realize that our strength has to do with SDG n°17, the partnerships. We clearly created partnerships between the two teams, there were no differences between us, everyone doing his/her job. Moreover, there is a saying I like that goes `I always wondered why somebody has not fixed the problem yet, until I realize I am somebody'". Something to think about.