Investor Fair

SAVE THE DATE! 

The highly anticipated Investor Fair at the African Microfinance Week (SAM) is making a grand return, and this time it's bigger and better than ever. 
Get ready for two action-packed days of networking, deal-making, and investment opportunities.
Meet us at the CIC (Centre international des conférences) at Lomé in Togo on 19 and 20 October 2023. 

What does the Investor Fair offer?
Mark your calendars for October 19-20, 2023, as CIC Lomé in Togo hosts the highly anticipated Investor Fair. This event, organised during the SAM, has established itself as a major platform for transparent African microfinance institutions (MFIs) and leading investors focused on inclusive finance. 

Due to the overwhelming demand from previous editions, the Fair is now expanding to two full days on Thursday and Friday during the SAM.

Originally designed as a means for MFIs to connect with investment funds interested in inclusive finance and explore potential business opportunities, the SAM 2023 Investor Fair has broadened its horizons. This year, it welcomes private impact investors seeking to engage with promising SMEs and startups.

Furthermore, the Fair aims to foster dynamic and operational synergies, facilitating exchanges and meetings between the Investor Fair, the Innovators' Village, and other innovators participating in the SAM 2023.

Investors, MFIs and innovative startups will maximize the value of their time and financial investments by participating in this event for just two days. They will have the opportunity to connect with potential partners from various countries, all with significant potential to impact their respective organizations positively.

The Fair revolves around one-to-one meetings between investors and MFIs. The majority of these meetings are pre-arranged using an online application. Nevertheless, to make sure you have an optimal experience, the SAM organisers will also provide personalized matchmaking to guarantee that you meet the utmost relevant MFIs and Innovators. 

A dedicated session on impact investing exclusively for investors will be delivered by SPTF (Social Performance Task Force), a global membership organization dedicated to social and environmental performance management.

Who is the Fair for?
Investors - Impact investors, who are committed to investing with the aim of generating an inclusive, positive and measurable social and environmental impact, in addition to a financial return.

Traditional microfinance investors such as mutual funds, cooperatives and microfinance banks 
Impact investment venture capital funds 
Banks 
Peer-to-peer lenders/community credits
Global philanthropic corporations and foundations

Beneficiaries

Small, medium and large African microfinance organizations 
Banks providing financial services to low-income households
SMEs
Social enterprises
Scaleups (including fintech, IT, healthtech, insurtech, agritech, regtech...).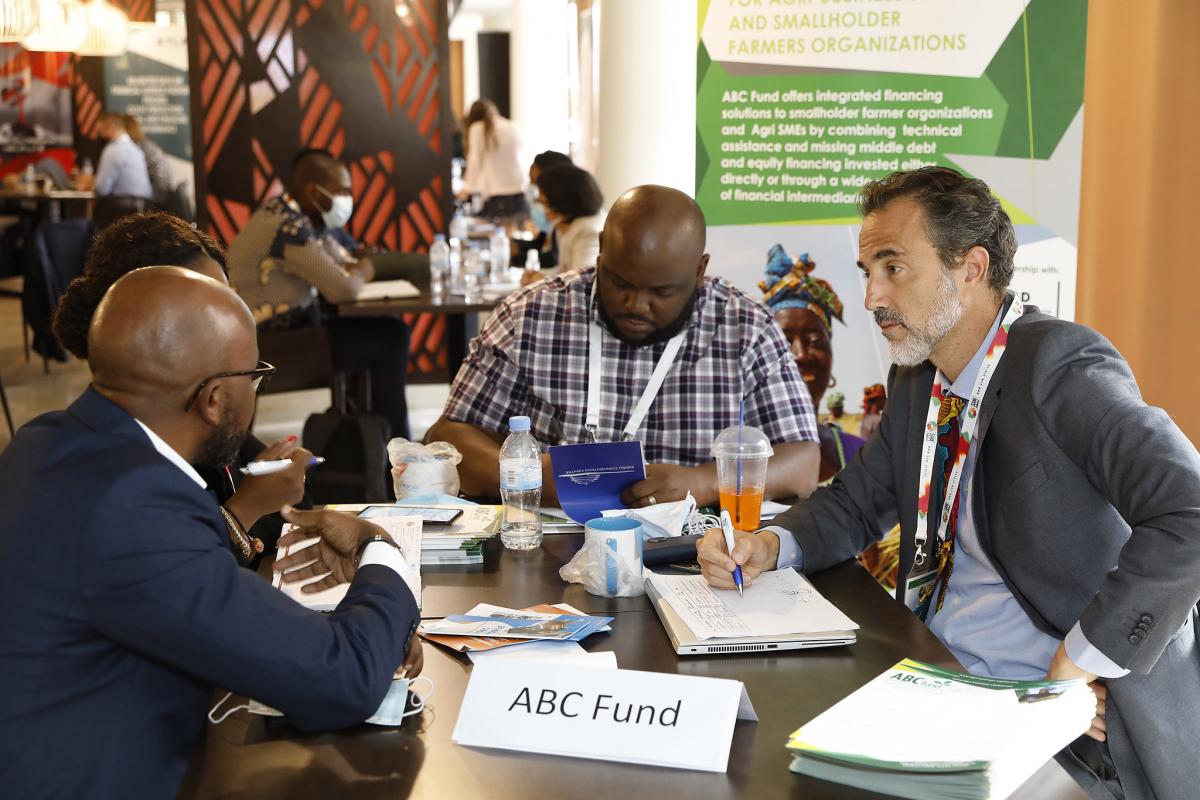 Streamlined interactions and pre-scheduled meetings via an online application
All participants of the Investor Fair will be able to download an application which facilitates how MFIs and investors interact, ensuring transparent and meaningful exchanges that drive impactful collaborations.

The application enables MFIs and innovators to present investors with a comprehensive overview of their current financial landscape and funding requirements, thereby enabling investors to make informed decisions.

Likewise, investors can leverage the application to introduce themselves to MFIs and innovators, highlighting their investment priorities. They can set the stage for productive discussions with compatible partners by providing key details about their investment focus.

Once investors and MFIs have secure their SAM tickets, they gain exclusive access to the application.

Benefits for MFIs and innovators
SAM is the largest gathering of microfinance practitioners in Africa. It's a unique opportunity for institutions to present themselves and their financial needs to improve and further develop their services.

For this reason, we strongly recommend that all MFIs and innovators interested in participating in the Fair complete their profile in the app once they have registered for SAM and received their admission ticket.

Benefits for investors
Investors embarking on this exciting journey will reap many advantages, propelling their investment strategies to new heights. Here's a glimpse into the benefits that await them at the Investor Fair:
Unparalleled access: Investors gain a unique and unparalleled opportunity to meet numerous African microfinance institutions (MFIs) from diverse countries and regions, all under one roof and on the same day. This concentrated gathering of MFIs ensures a streamlined and efficient platform for meaningful interactions.
Forge long-term relationships: The Fair's focus on upstream meetings paves the way for initial contact that often blossoms into enduring and fruitful long-term relationships. By engaging in these essential discussions, investors lay the foundation for lasting collaborations that drive mutual growth and success.
Impressive track record: The Investor Fair has a proven track record of success. The event hosted 18 investors and rating agencies in its previous edition, alongside an impressive cohort of 200 MFIs. Together, they facilitated a remarkable 430 speed-dating meetings throughout the day, showcasing the abundance of opportunities available.

Sponsoring the Investor Fair
The sponsorship package for the Investor Fair is EUR 6,000.

It includes the following benefits: 
1 stand at the Investor Fair
1 SAM admission valid for the whole week
Thanks to the sponsor at the opening of the Investor Fair
1 page of advertising in the SAM diary (provided by the sponsor)
Sponsor's logo on all written communication materials relating to the Fair and on the SAM website
Priority in selecting the MFIs with which the sponsor wishes to arrange a meeting.
If you have any questions about the Investor Fair or the sponsorship opportunity, please contact sam-investors@ada-microfinance.lu.