Body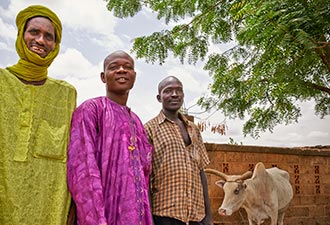 ---
Project objectives
Building partnerships with professional associations and networks to become more effective for the benefit of their member MFIs and their clients.
Intervention areas
Africa, Central America, South-East Asia
---
Building partnerships with microfinance networks and professional associations 
---
MFI networks and professional associations play a key role in the development and professionalization of the microfinance sector. As a result of their capacity to mobilise a large number of microfinance institutions and to engage in dialogue with the authorities, they represent a powerful instrument which may be used to develop inclusive finance services.
---
Thanks to the partnerships acquired with MFI networks and professional associations in Africa, Central America and South-East Asia, we are able to multiply the impact of our actions and contribute to the development of an enabling environment for the responsible growth of inclusive finance. The networks act as intermediaries and are the contact points for MFIs, as well as for public authorities and regulatory bodies to which they centralise the difficulties encountered by their members. This approach thus contributes to the consolidation of the institutional capacities of these actors in order to guarantee the proper development of the sector at the national or regional level.
The projects developed with professional networks and associations create a leverage effect and a massive dissemination of tools and good practices, training and expertise provided by ADA, particularly in terms of financial transparency, social performance, financial education and the development of green microfinance products, transmitted to all their member MFIs.
The idea behind these collaborations is the transfer of skills to a local actor, capable of re-disseminating knowledge to all relevant stakeholders.
We work with several networks throughout the world
---

with REDCAMIF, a regional network which brings together the national networks of Guatemala, El Salvador, Honduras, Nicaragua, Costa Rica, Panama and the Dominican Republic. 
in Cambodia with the Cambodia Microfinance Association (CMA);
in Laos with the Lao Microfinance Association (LMFA);
in the Philippines with the MCPI (Microfinance Council of the Philippines, Inc.);
in Myanmar, by supporting the Myanmar Microfinance Association network.

with the MAIN (Microfinance African Institutions Network) network, which was created at the initiative of several institutions which have lengthy experience in microfinance and the promotion of micro-enterprises in Africa.

with Tanzania Association of Microfinance Institutions (TAMFI), a national network of Microfinance Institutions in Tanzania that was established in 2001 as a nongovernmental organization (not for profit). TAMFI works to strengthen Tanzania's microfinance sector by promoting cooperation and collaboration among its member organizations, providing trainings as well as conducting research and advocacy. TAMFI provides a platform for all microfinance stakeholders (institutions) which allows them to meet, discuss, dialogue, present, argue, voice their concerns and interests, network and collaborate for the purpose of developing the microfinance sector in the country.

with the CIF-VIE (Confédération des Institutions Financières), which is a network of West African cooperatives. We support CIF-VIE in its efforts to develop the micro-insurance sector in West Africa. The first micro-insurance company was created in 2007 in Ouagadougou in Burkina Faso.